Surf Like a Girl is a beautiful hardcover book by Carolina Amell profiling 30 women who surf, exploring their connection to the waves and surf culture. The book is packed with stunning photos and inspiring words from professional surfers to mothers that surf, entrepreneurs, surf photographers, writers, filmmakers, and surfboard shapers.
Given the highly visual nature of the book, it's no coincidence that more than 50% of the women featured are photographers. We were inspired by the stories of how each photographer broke into their field, and how some made big life changes or moved to the other side of the world to follow their dreams.
We've curated (below) some of our favourite outtakes and photos from the book, plus a little interview with the author and designer of Surf Like a Girl, Carolina Amell, who is based in Barcelona, Spain.
Buy the book on Amazon
Q&A with the author and designer of Surf Like a Girl, Carolina Amell:
As a veteran graphic designer and book producer of many different genres of books, what inspired you to create Surf Like a Girl?
I felt the need to feature an entire group of women who make surfing what it is right now, and show that women surfers have never been more talented and empowered than they are today. I wanted to make sure that these women's voices could be heard and could inspire others with their stories and with their lovely pictures!!!!
I wanted to capture inspiring women. Women who are breaking stereotypes — from professional surfers to big wave surfers, longboard surfers, late start surfers, mama surfers, water photographers, and shapers.
I wanted to celebrate female wave chasers of the world!!!!
You've curated inspiring content from female surfers, entrepreneurs, and creatives around the world. What drew you to the people you selected for the book?
For the selection, I was not willing to give voice only to the "best surfers". For me, the most important thing was to hear experiences from all kinds of girls and women from all around the world.
What did you enjoy most about creating Surf Like a Girl?
I really enjoyed getting to know the surfers and photographers. I daydream of buying airplane tickets and visiting all the girls and spots shown in the book. It would be a dream come true to meet them personally and surf with all and each of them!!!!
What are your biggest takeaways from the stories curated in your book?
I've learned a lot from all of them.
I've learned about facing challenges.
About being strong and accepting weakness.
About connecting with nature, with the ocean and the inner self.
About our social and environmental responsibility.
About how important it is to listen to ourselves rather than the rules of society.
About following our dreams. It doesn't matter if it is not easy.
About letting go of all forms of fear.
About being confident in our own skin.
About empowerment and creating social bonds between women.
And above all: About being grateful.
Learn more about Caroline on her website or follow her @bookpackager.
And the following are some tasters of the inspirational stories, creative insights, and photography in the book:
"I feel very lucky to have found something that I'm so passionate about. Creativity is one of the most essential aspects of life, and I think that everyone should harness it and hold on to it. We've all got it in one way or another — it's just a matter of getting in touch with it. If you find that thing you love, or something you gravitate toward, stick with it. Do what you love, and you will find a way to get it out into the world."

Tahnei Roy
"In Biarritz, I found my personal paradise, my happy place where I could finally live my dream of being a photographer and a surfer. Although it meant leaving a promising career in an exhilarating city [Paris] behind me, it was a risk worth taking, and despite the struggles and the unknowns that awaited me, I was finally able to free my spirit and follow my path. Today, I know that I chose the right path. I can truly say that I'm in love with what I do, and this fills me with joy and gives me the motivation to carry on looking for new inspiration and purpose."

Cécilia Thibier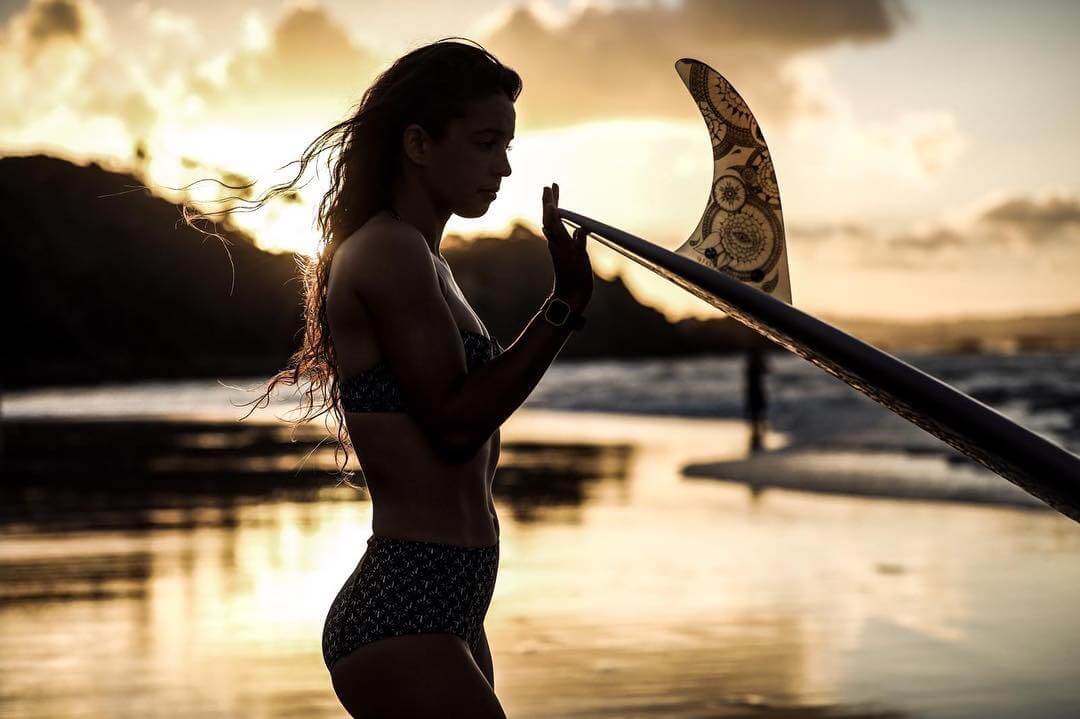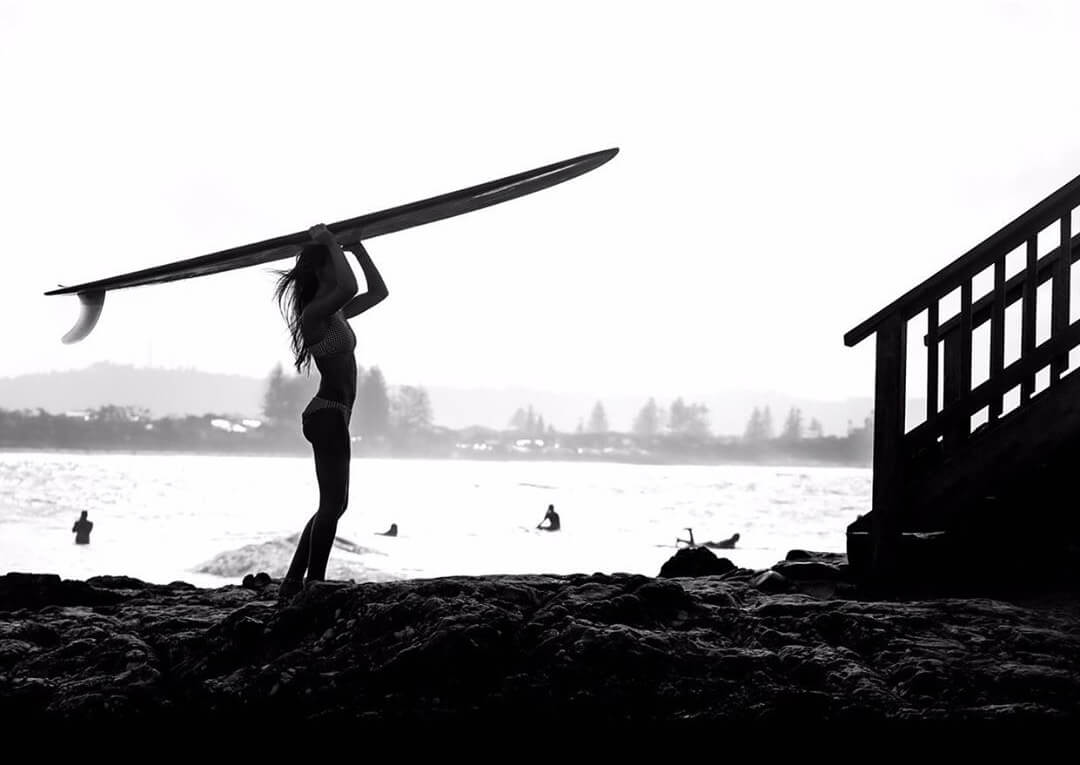 "I'm one of the few women worldwide to take photos from the water in big waves, and the only Mexican woman to do so. It hasn't been an easy path, but I wouldn't change a thing. There's something truly special about following your dreams, no matter how big or distant they seem. In sharing my story, I hope that it will inspire a new generation of women to not give up until they achieve their goals."

Maria Fernanda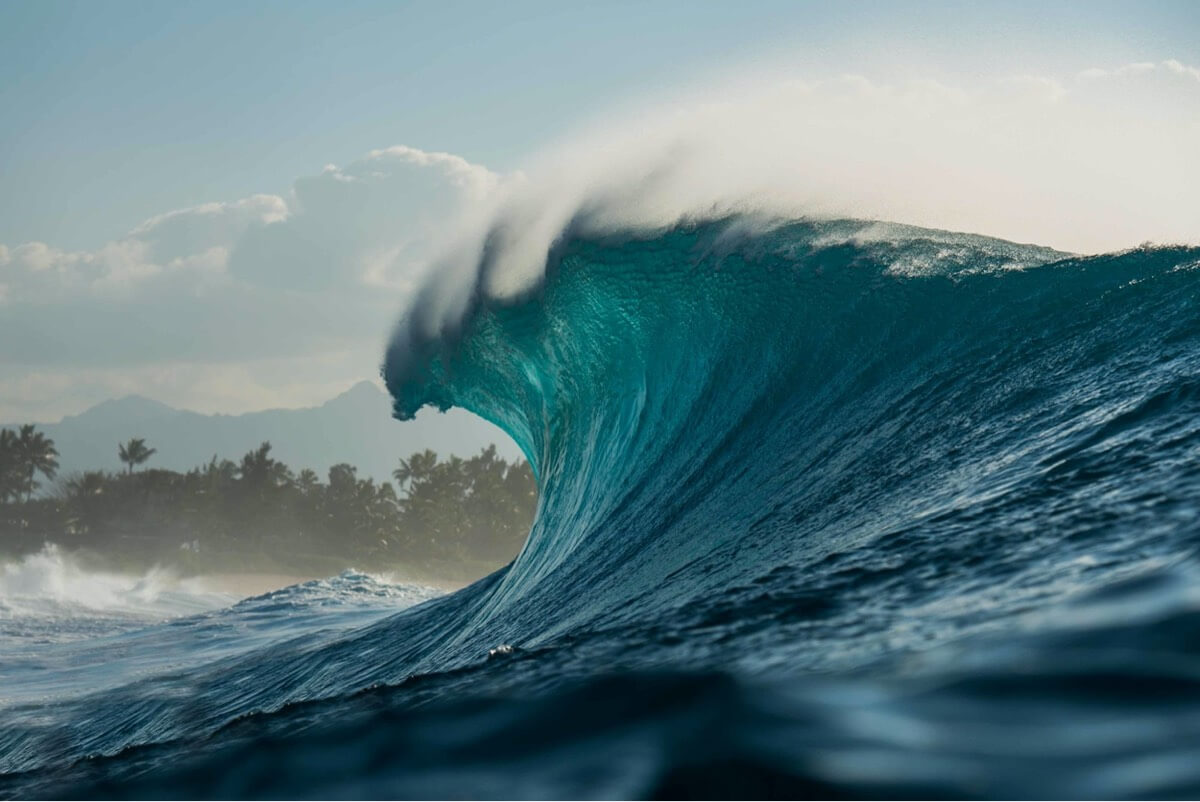 "It's so hard to find your path now in this world so full of possibilities. I strongly believe, though, that if you continue being curious and open to different things around you, you'll find your path. You'll find the thing that fills you with so much passion that time just seems to evaporate when you are doing it. Something that permits you to live the way you want. It's never too late for a big change of path. I have a doctorate in cancer research but now reside in a quiet ocean town where I do surf, adventure, and lifestyle photography full-time".

Cristina Gareau
"Brands, athletes, and adventurers take up most of my camera time, but I love carving out time to shoot everyday people doing what they love. My vision is to create images that capture and accentuate the beauty in what surrounds me."

Sarah Lee
"The physical photos I take are not comparable to the experiences that engulf my senses: the cold Canadian water, the sweet smell of kelp, the many hues of my favourite turquoise and greens, the variation of the silence that accompanies the ocean, or the overwhelming sound of endless gallons of water exploding into each other as surfers paint the canvas Mother Nature has to offer."

Bryanna Bradley
"Growing up an hour from both New York City and the beach, I was always inspired by creative fields and the water. I would force my mom to drive me down to the beach in time for sunrise whenever there was a big swell. I was obsessed. If I missed documenting even a single swell, it seemed like the end of the world. This drive and devotion to my work led me to start making contacts at surfing publications at quite an early age."

Fiona Mullen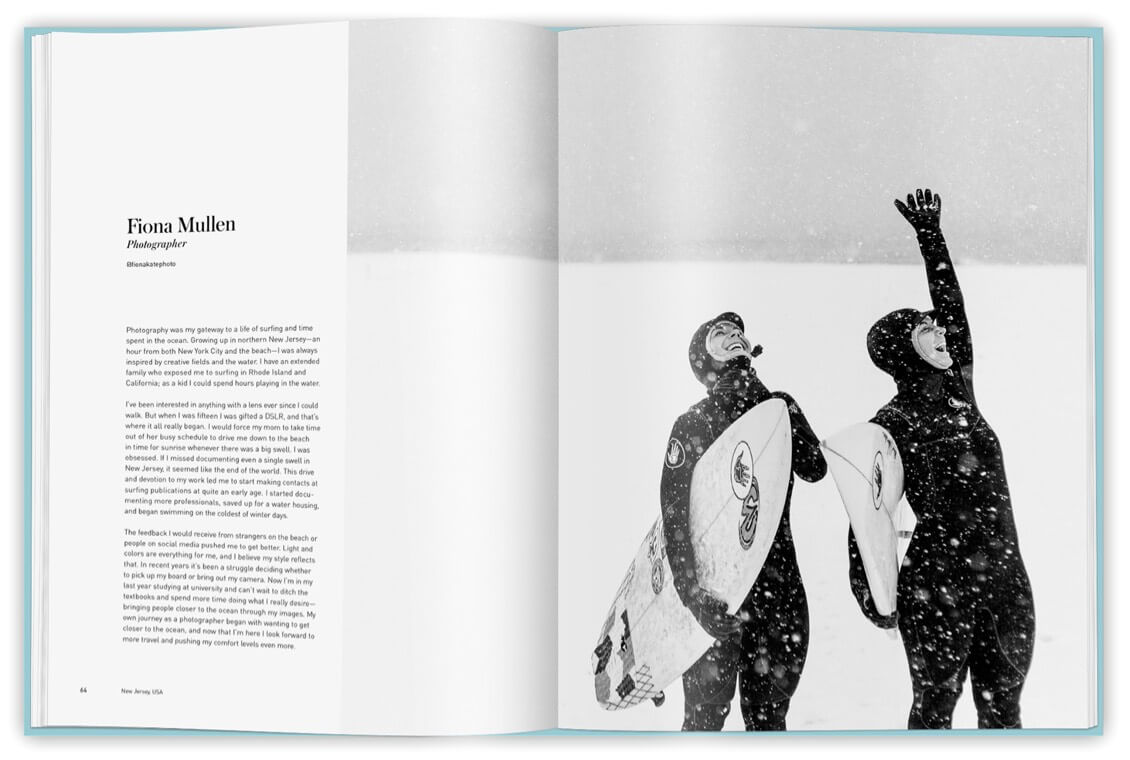 I find inspiration in nature, femininity, the ocean, and the sky, and my body of work is a nod to these influences. In my photography, I want to present a poetic and ethereal view of the surfing life. I center my work on female subjects as a reflection of my own vision, and as a way to communicate through them. Through my dreamlike images, I want to highlight the beauty of women from all around the world and share their talent with others.

Camille Robiou du Pont
"I think it's very important, as a woman, to photograph other women. I try to portray a feminine perspective in all my images in a way I think only a woman can."

Tara Rock
"Being close to the water opens your mind and gives you perspective. I bought my first camera at the age of twelve and started to organize photoshoots with my friends. I'd buy clothes on the day of the shoot and then take them back to the shop the next day. It was fun!"

Séréna Lutton
"I found my voice in water photography when I swapped my shortboard for a longboard. I love to capture the action from the water but also the whole longboarding lifestyle and story: the close connection to nature, the lightness and the presence in the moment, and lives lived with passion and joy. I want to inspire others to live a life that's close to nature as well as to their own true nature — a life lived from the heart — and to follow their dreams and passions."

Karo Krassel
"One of my favourite things about surfing is all the amazing people, especially women, I get to meet and connect with. I find that there's a beautiful sisterhood among female surfers, and rather than competing with each other we support each other in the water."

Vera Nording
"Moving to Sri Lanka [from Sweden] and changing my career has taught me that you really can do anything you set your mind to. Take that leap of faith, move to another country, quit your job, learn to surf, try something you've always dreamed of. If it doesn't work out you can always go back, but if it does work out, you might find you've created your dream life."

Vera Nording
If you enjoyed this article — treat yourself or a loved one to a copy of Surf Like a Girl. You won't regret it.
Buy the book on Amazon