Rick Griffin (1944-1991) is widely known in the surfing world as one of the original 'surf artists' — cited as a great influence by many artists. Surfing fans may recognise his iconic poster for John Severson's surfing film, Pacific Vibrations, or his comic strip about a surfer named "Murphy", pictured below on the cover of 'The Surfer'. Outside of the surfing world, he rose to fame through his psychedelic posters in the 1960s, creating art for the likes of Jimi Hendrix and the Grateful Dead.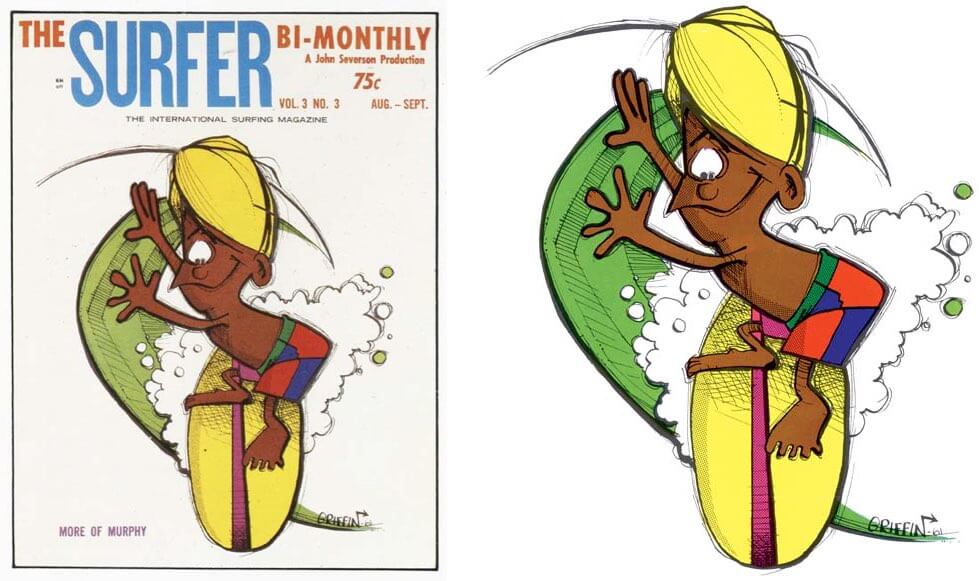 We're grateful to Rick's son-in-law, Tod — who represents the Griffin estate and all business dealings — for giving us the opportunity to showcase some of Rick's work and supplying us with the following biography, written by Tim Stephenson.
TS: Richard Alden Griffin was born near Palos Verdes, California on the 18th of June 1944. His father was an engineer and amateur archaeologist and as a boy, Rick accompanied him on digs in the Southwest. It was during this time that Rick was exposed to the Native American and ghost town artifacts that were to influence his later work.
Rick was taught to surf by Randy Nauert at the age of 14 at Torrance Beach. The pair had met at Alexander Flemming Jr. High, and were to become lifelong friends, Rick producing much of the artwork for Randy's future 'surf rock' band, The Challengers.
At Nathaniel Narbonne High School in the 1950s, Rick began copying images from Mad Magazine and then developed his own style of surf doodles. Rick's friends would pay him 50¢ for an original piece penned on their shirts. Rick was also interested in Hot Rod cars and motorcycles, their decoration being amongst his earliest professional work.
Randy introduced Rick to John Severson at a screening of "Surf Fever" (pictured above) at Narbonne High, telling John that he should hire Rick for his magazine. Rick had already done artwork for Greg Noll (decorating Noll's early price lists, pictured below), the Illustrated Surfer's Dictionary, and Bing Surfboards.
Soon after leaving Palos Verdes High School, Rick became staff artist at "The Surfer" magazine (now called Surfer). During his time at The Surfer, Rick created the character of Murphy, whose impact on the surf scene at the time should not be underestimated. Adopted by many as a mascot, the little Gremlin, (thought by some to have been the personification of Rick), soon became integral to the Californian surf scene. Rick parted company with Surfer in 1964.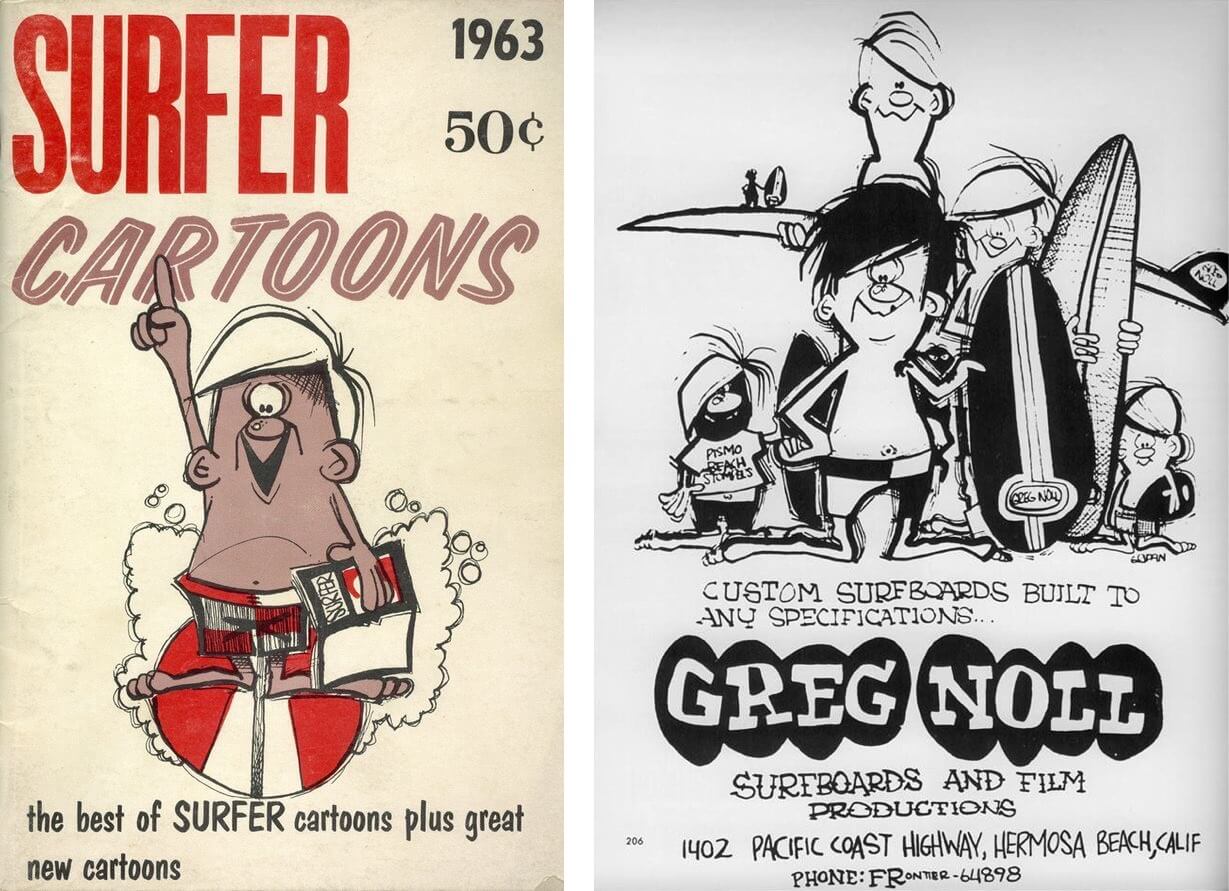 Planning to emigrate to Australia, Rick hitched a lift toward San Francisco. After falling asleep, he awoke to find the car swerving from side to side with the driver laughing maniacally. The vehicle went out of control and Rick later recalled that the last thing he remembered was flying through the air watching his cheap suitcase hitting the ground and splintering into a thousand pieces. The first thing he heard when he finally regained consciousness was someone reading Psalm 23 "Yea, though I walk through the valley of the shadow of death…". This proved to be a major factor in Rick's later conversion to Christianity.
Rick's left eye was dislocated in the accident (perhaps the inspiration behind the disembodied eye in his subsequent work), and he sustained lasting facial scarring. Subsequently, Rick changed not only his appearance, (he grew a beard and sported an eye-patch), his art also became more sophisticated and the characteristic fluid lettering style emerged.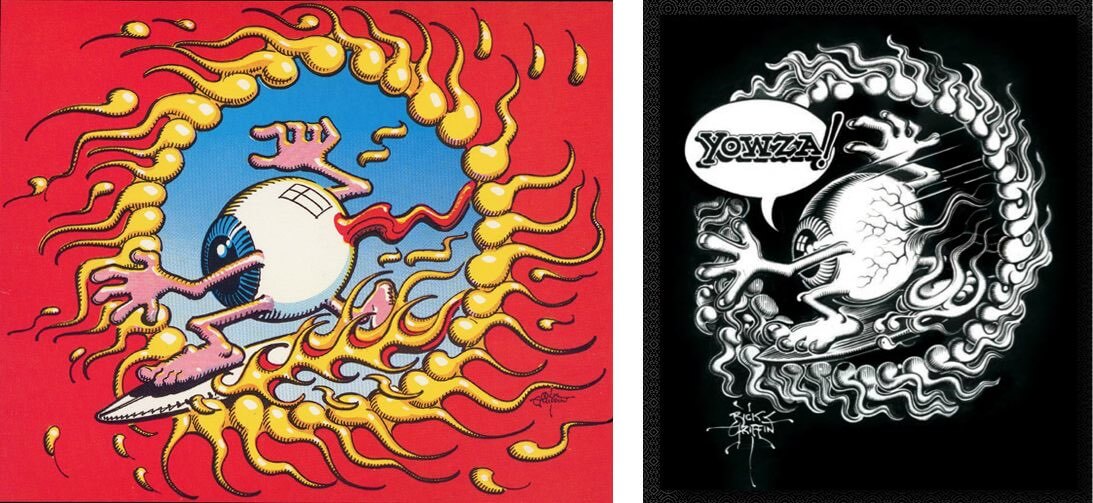 His time at Chouinard Art Institute, (now Cal Arts), was to shape Rick's future life. Not only did he meet fellow artist and future wife Ida Pfefferle, but in 1964 he became involved with the Jook Savages — a group of artist-musicians. After taking time out for a Mexican surf trip, Rick and Ida met up with the group in San Francisco in late 1966, the two living, initially, in their van.
Rick's first San Francisco rock poster was for the Jook Savages Art Show. He then produced the poster for the Human Be-In in 1967 in Golden Gate Park, advertised as the "Gathering Of Tribes", showing a guitar-toting Indian on horseback. It was this event that kicked off the Summer of Love. As the Haight-Ashbury scene developed, Rick's work was in high demand. Drawing on influences as diverse as Native American culture, the Californian surf scene, and of course, the burgeoning hippie movement, he incorporated beetles, skulls, surfing eyeballs, vivid colours, and wild lettering into his art.
Rick produced a series of seminal posters for Chet Helms, a producer of The Family Dog collective, and Bill Graham, who staged events at the Avalon Ballroom and the Fillmore Auditorium respectively. He made posters for legends such as Jimi Hendrix, Albert King and the Grateful Dead, the logo for Rolling Stones magazine, and many album sleeves; perhaps the most well known being the Grateful Dead's Aoxomoxoa:
Along with Alton Kelley, Stanley "Mouse" Miller, Victor Moscoso, and Wes Wilson, Rick became known as one of the "Big Five" of psychedelia. In 1967 they founded the Berkeley-Bonaparte distribution agency to produce and sell psychedelic poster art. He oversaw the lithography, ensuring a flow of quality artwork by himself and other leading lights, destined to grace the walls of the enlightened to this day. The famous 'Flying Eyeball' poster (pictured below) ranks as one of the most important of the time and is sought after by fans and modern art museums alike.
Although at the vanguard of the psychedelic art movement Rick still produced comic art true to his roots. His work can be found in Zap, Snatch, and Tales From The Tube (pictured below).
When Rick moved back to Southern California in 1969 and settled, eventually, in San Clemente, John Severson asked him to design a poster for his latest film Pacific Vibrations (pictured below), and to appear in it. Months later Severson was presented with a masterwork. Rick and Ida's daughter Adelia was born whilst Rick was working on the piece and both mother and unborn child are featured in the poster. Rick did more work for Surfer and also found time to create the Man From Utopia comics.
In the 70s Rick became a Christian and his work took a radical change of direction. He produced the Illustrated Book of Saint John and later created work for the Calvary Chapel in Costa Mesa. The Chapel was affiliated with Maranatha! Music and hired Rick as art director to produce album covers, posters, and flyers for the growing Christian music scene.
Rick travelled to Europe in 1976 with his friend and agent Gordon McClelland, to exhibit his work in Amsterdam, London, and Sunderland, in the north of England. Following the exhibitions, the pair toured Europe for a couple of months in an old Morris Traveller surfing the Atlantic coasts of France and finding 12-foot waves in Mundaca, Northern Spain. On their return to California, McClelland wrote Rick's biography, Rick producing the cover art.

In the 1980s Rick's work included a logo and cover art for English rockers The Cult, notably "Soldier Blue", designed in '87 for an aborted single release and not to see the light of day until it was used as a template for "Rare Cult" thirteen years later. Still, as striking as ever, it brought Rick to the attention of a different generation on another part of the planet, the author included.
As a perfectionist, Rick put 110% into every piece he produced no matter how large or how small, but he was never a businessman and according to daughter Flaven never considered that people would try to rip him off. Murphy's last appearance was in 1987 pouring over druid runes, suggesting perhaps, that the artist was re-evaluating his life once more. At this time Rick was surfing in the cold water at Mystos, north of San Francisco.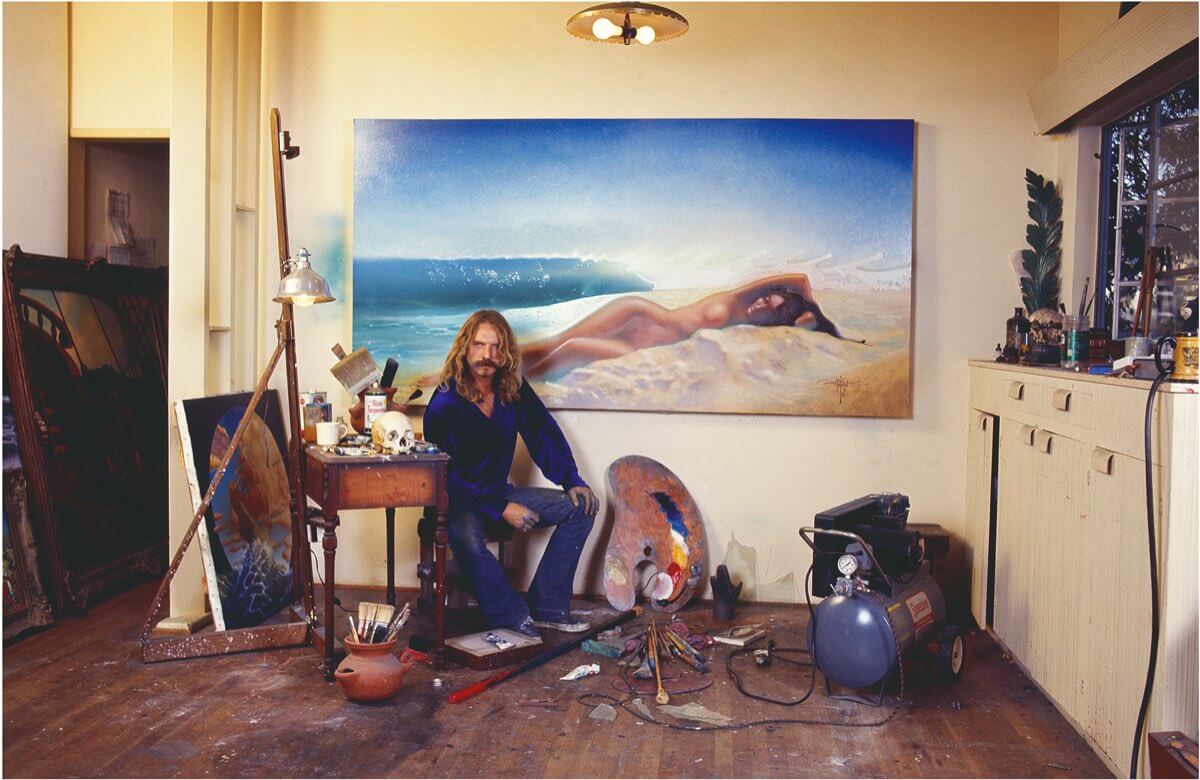 At noon on 15th August 1991, Rick's Harley Heritage Softail was forced off the road by a van he was attempting to pass. Rick died three days later from his injuries.
His loss cannot be over-estimated, a true visionary and outstanding talent, he enhanced our lives in so many ways.
See more of Rick's work on his family-run website at: rickgriffindesigns.com