Few people in surfing history have as strong a claim as being one of the most influential and pioneering people in surfing history, as John Severson. John Severson effectively spawned the 'surf media' industry when he created the first-ever surfing magazine in 1960, creating a whole swath of new opportunities in the world of professional surfing and the evolving surf industry in the 1960s. He was also the original 'surf artist' in the 1950s and one of the first surf filmmakers.
Born in December of 1933 in Los Angeles, John Severson began surfing at age 13 after his family moved to San Clemente, California. As a surfer, Severson was known for his innovative performance style in big surf. In 1961, he won the Peru International and was a finalist in the United States and Hawaiian Championships.
But it was his creative endeavours that he was most well known for. A serial creative, John Severson was an artist, a filmmaker, a publisher, and a photographer.
The artist
In the 1950s, John Severson was the first person to create a large body of art relating to Hawaiian and Californian surf culture, and as such, is considered to be one of the first 'surf artists', paving the way for an entire genre of art!
John spent much of his adult life creating a diverse body of oil paintings, watercolours, drawings, and prints. His painting, "Surf Be Bop" (below) was selected by Communication Arts as the outstanding magazine cover painting of 1963:
"I'd like to feel that I've done something worthwhile for surfing. If you're an artist or photographer, perhaps I made a difference."

John Severson
See more of John Severson's art in his Club of the Waves artist profile.
'The Surfer'
John's creative pursuits didn't stop with art. Far from it. He was an avid photographer, filmmaker, publicist, entrepreneur — you name it.
In 1960, John founded the first ever surfing magazine, called "The Surfer". The publication started out as a 36-page book, featuring photos from his surf movie, "Surf Fever" along with John's own cartoon illustrations, editorial, distinctive hand-lettering, and some adverts. At first, 'The Surfer' was intended as a one-off publication, but it's raging success saw it evolve into a bi-monthly magazine, and over the years evolved into the magazine we know today as "Surfer".
The video below shows the first issue of The Surfer, thanks to an amazing video series by Surfer magazine, sharing the original issues of the magazine from the 1960s:
The photo below shows surfer, Mickey Muñoz reminiscing over the first issue of 'The Surfer'. The spread shows Severson's photo of Mickey in his 'Quasimoto' pose in 1960. Australian surfboard shaper, Bob McTavish wrote an excellent piece about his memories of the first issue of 'The Surfer' and the impact it had on his career.
"The most overwhelming single event in my surfing life (believe it or not) was seeing and absorbing for one dazzling week, the very first surf magazine ever, 'The Surfer' in 1960."

Bob McTavish, Surfboard shaper
As 'The Surfer' became more and more popular, John needed to expand on the content, and so he brought in editors Drew Kampion and Steve Pezman, and one the leading surf photographers of the time, Ron Stoner. The content grew to feature different contributors, photographers, locations, and stories — which in time gave birth to a whole new genre of surf media, opening up new roles and opportunities in the surfing world. Surf photographers and writers were paid for featuring their photos, words, travels, and experiences — and surfers gained new sponsorship and advertising opportunities. By all accounts, John Severson is the father of 'surf media' and a major catalyst for the fast-developing 'surf industry' of the 1960s.
Before John Severson, there was no 'surf media', no 'surf industry', and no 'surf culture' — at least not in the way we understand it today.

Sam George (1999), Former Editor of Surfer magazine
Severson and Griffin
In the early days of 'The Surfer', John recruited a young artist called Rick Griffin. During his time at 'The Surfer', Griffin created a surfing character called "Murphy", pictured below on an early 'The Surfer' cover in 1962. The Murphy character became something of an iconic figure in surfing, adopted by many as a mascot, and symbolic of the 1960s Californian surf scene.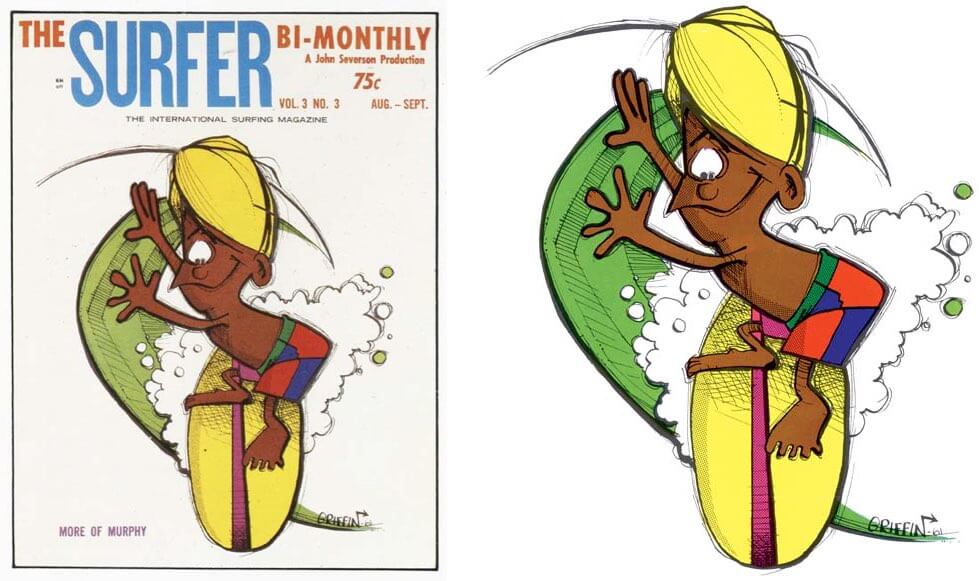 Severson and Griffin continued to work together for years, collaborating on the magazine, as well as surf movie posters and marketing. Together they created some of the most iconic posters in surfing history, including the poster for Pacific Vibrations in 1970. Hot off the heels of his work with John Severson; Rick Griffin went on to be one of the most famous artists in history, creating numerous iconic psychedelic rock posters for the likes of the Grateful Dead and Jimi Hendrix.
The filmmaker
In the late 1950s and early 60s, John Severson was one of the original surf filmmakers, alongside Bruce Brown, Bud Browne, and Greg Noll. John's passion for the arts, surfing, and photography led to him creating a series of popular — now iconic — surf movies, including his first film, "Surf" in 1958, then later came, "Surf Safari" (1959), "Surf Fever" (1960), "Big Wednesday" (1961), "Going My Wave" (1962), and finally "Pacific Vibrations" (1970). The posters John created for these movies — featuring his photography and distinctive hand-lettering style — were an instant hit and remain collector favourites today.
The photographer
Among John's many accomplishments, the photo below of Greg Noll staring down Pipeline on the North Shore of Oahu, Hawaii in 1964, is arguably one of the most iconic photos in surfing history: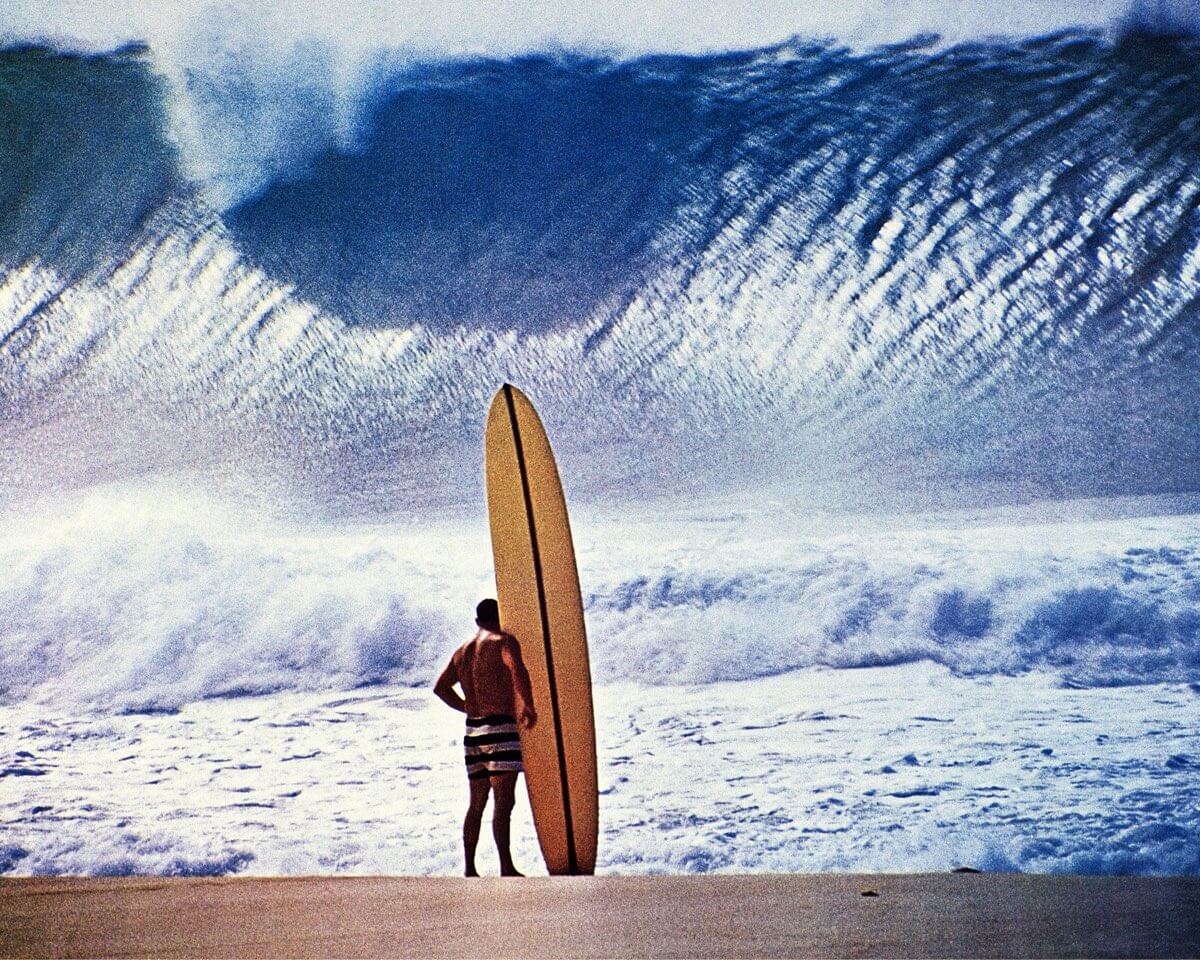 This photo of big wave surfer, Bob Pike was featured on Severson's surf movie poster for his 1962 film, "Going My Wave":
The legend
As one of surfing's greatest pioneers and legends, John Severson was voted into the Surfing Hall of Fame in 1993, the Walk of Fame at Huntington Beach in 1995, and given a lifetime achievement award by the Surf Industry Manufacturers' Association as "Waterman of the Year" in 1997. The video below is of John receiving his Surfer Poll Lifetime Achievement award in 2011, introduced by Drew Kampion:
In 1968, Life Magazine ran a 10-page feature on Severson's family and career success. The images below are some of the great photos from Life's feature, taken in San Clemente, California in 1966 by photographer Bill Ray (source):
Severson's art and eye for the essence of surfing is unique and unparalleled. His perception of surfing is as the sport and lifestyle should be: positively happy.

Jake Howard, Surfer Magazine
John Severson passed away in 2017, aged 83.
You can see more of John's surf art and photography, and purchase his iconic surf movie posters on his family-run website at surferart.com. John's work is also captured in two great books: