Californian artist, Rick Rietveld spoke with us about his career in art and gives insight into his surreal world of art and surfing.
Tell us about your background…
RR: I was born and raised in Los Angeles, California. My father was a technician for NCR before the computer age so he was really a "left-brainer", but in his spare time, he loved working on cars in our garage. He could rebuild them from the bottom up, including custom paint jobs. So my interest in custom cars and Hot Rods started as a child watching my dad. My mother is an artist and took us kids to museums and galleries and around the age of 10, my mom and I exhibited our art at sidewalk art shows in La Crescenta and Glendale. I studied at the Art Center College of Design in Pasadena majoring in Illustration. I moved to Newport Beach, California in 1978 to surf and pursue a career in illustration where I live and work today.
How would you describe your artistic style?
RR: I always have a hard time answering this question because most people want to put labels on artists and their work. Because I was trained as an illustrator my natural tendency is to try and tell a story through my art. I use many tools to create my art, usually beginning with a drawing in my sketchbook and then deciding what process to use to best tell the story. The image or subject matter dictates what medium I use and the style that comes from the medium and technique happens after many years of doing it. I never consciously try to create or follow my style.
In the 80s I painted with acrylic and airbrush and pen and ink for most of the t-shirt art and illustrated ads in the magazines and billboards. Since the 90s I've been working mostly with acrylic on canvas, pencil, and ink.
I also learned to paint on the computer in the early 90s with a pressure sensitive tablet that emulates painting and drawing. I think the fine art world is having a hard time respecting computer art but the truth is that a computer can't create, it's just a tool, nothing more, it is controlled and directed by the artist. Many people think you are cheating if you use a computer but it is like any other medium and requires a lot of skill to become exceptional at using it. I apply it mostly in my commercial work with the clothing lines.
I would describe my work as surf art with a pop surrealism style, or "surfrealism".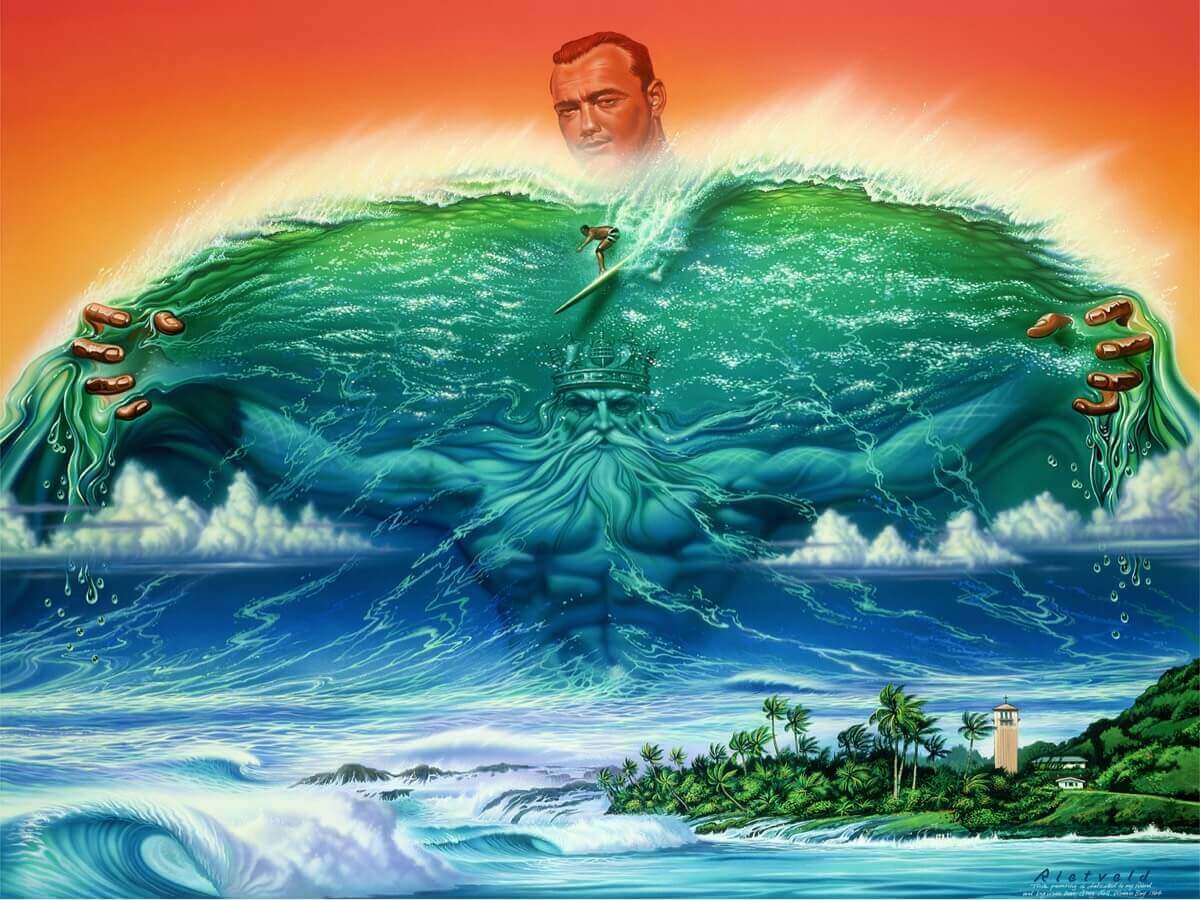 So when did you first find an appreciation for art?
RR: My first memory of my appreciation for art was on the day I watched my Mother do a pencil drawing of a child. She started with lightly sketched basic shapes and then all of a sudden it magically became this beautiful piece of art, all in just a few minutes. I was amazed and inspired to learn how to draw and do art from that day forward.
Your art is of another world, what inspires your creations?
RR: As a teenager, artists in the surf mags like Rick Griffin, Bill Ogden, and Jim Evans inspired me because they all had their own unique way of drawing and painting. Later in art school, I was inspired by all the great illustrators and master artists from all periods. Surrealists were my favourites such as Salvador Dali and Rene Magritte. Impressionists like Vincent Van Gogh and Paul Gauguin currently inspire me. I also like some of the fathers of the Low Brow Pop Culture like Robert Williams and Todd Schorr. Music is the other most important element of my creative drive and I enjoy all types of music.
How long have you been surfing?
RR: I became interested in surfing around 14 years old and my "surf guru" who was an older kid in my school. He built my first surfboard in his garage. After I rode my first wave I was hooked and then everything I did revolved around getting down to the beach and surfing as much as possible. I drew and painted cars, dragsters, hot rods, waves, surf characters and ???.
What is it about surfing that inspires you so?
RR: The ocean and marine life have always fascinated me. Surfing is a meditation for me and when I'm in a creative funk or stressed out surfing rejuvenates me.
Has surfing always been a subject for your work?
RR: It is the largest part of my body of work but my other interests are the hot rod culture, and I also have an affinity for cowboys and love to watch old western's, which my family and friends tease me about, but I fancy myself as sort of a "surf cowboy" and I have done a few cowboy paintings in my earlier works. The south pacific is another subject matter that appeals to me and I have had some fun doing tiki art.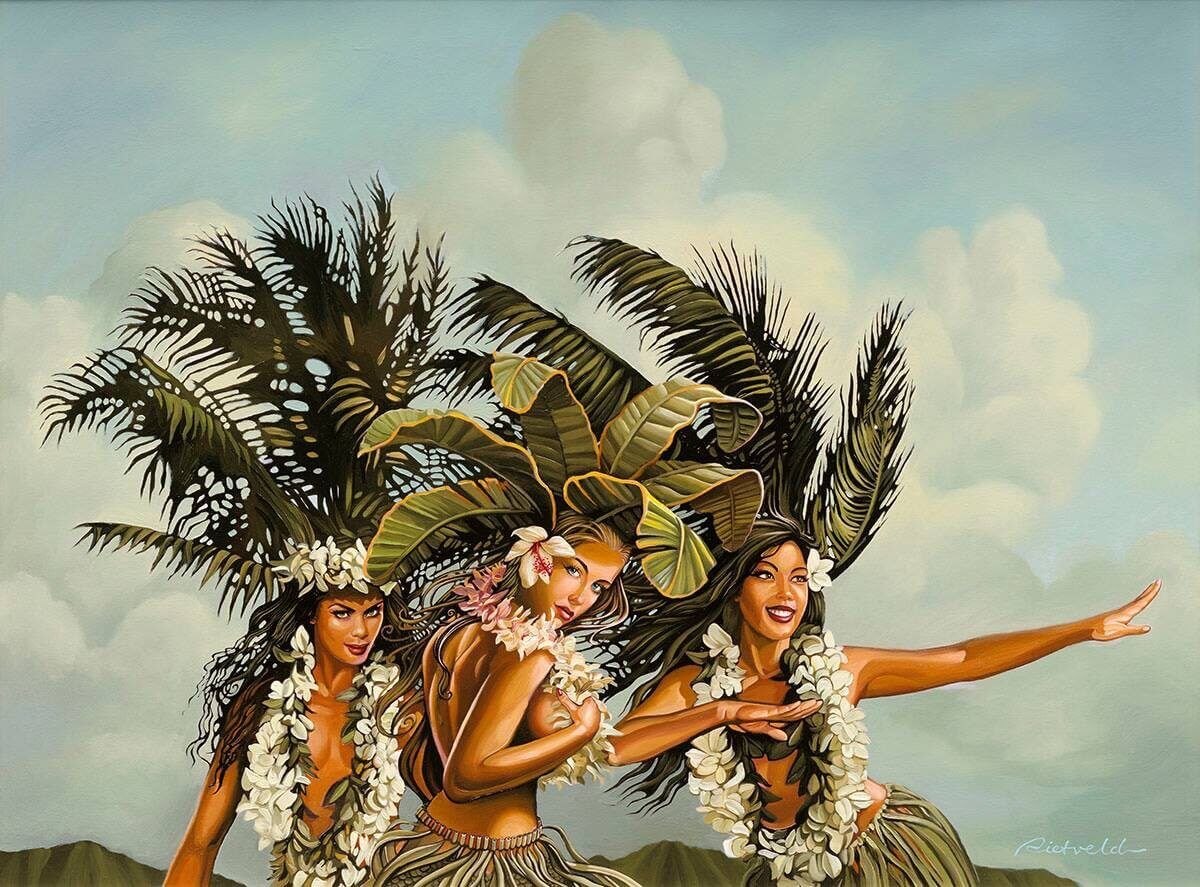 Tell us about RIETVELD USA…
RR: Rietveld USA is an art-inspired, creative surf brand that features my art on t-shirts, Aloha Shirts, boardshorts, and accessories. Rietveld USA is currently under contract with Wings, an Italian surf manufacturer. I met the owner Maurizio Cocchi in the mid-8os when he became the licensee in Italy for Maui and Sons (a company I helped co-found). Maurizio and I became friends and now he owns worldwide rights to my clothing brand: Rietveld USA, as well as Bear Surfboards. I am the Creative Director of both brands. It's a great relationship because he gives me total creative freedom. I work with my friends at Wings along with my buddy and Art Director, Nick Newton.
Rietveld USA can be found in many countries including Europe and Australia. We are working with a USA licensee that will focus on special boutiques and surf shops in the United States, Canada, and Mexico. We hope to have products in stores in the United States by 2007.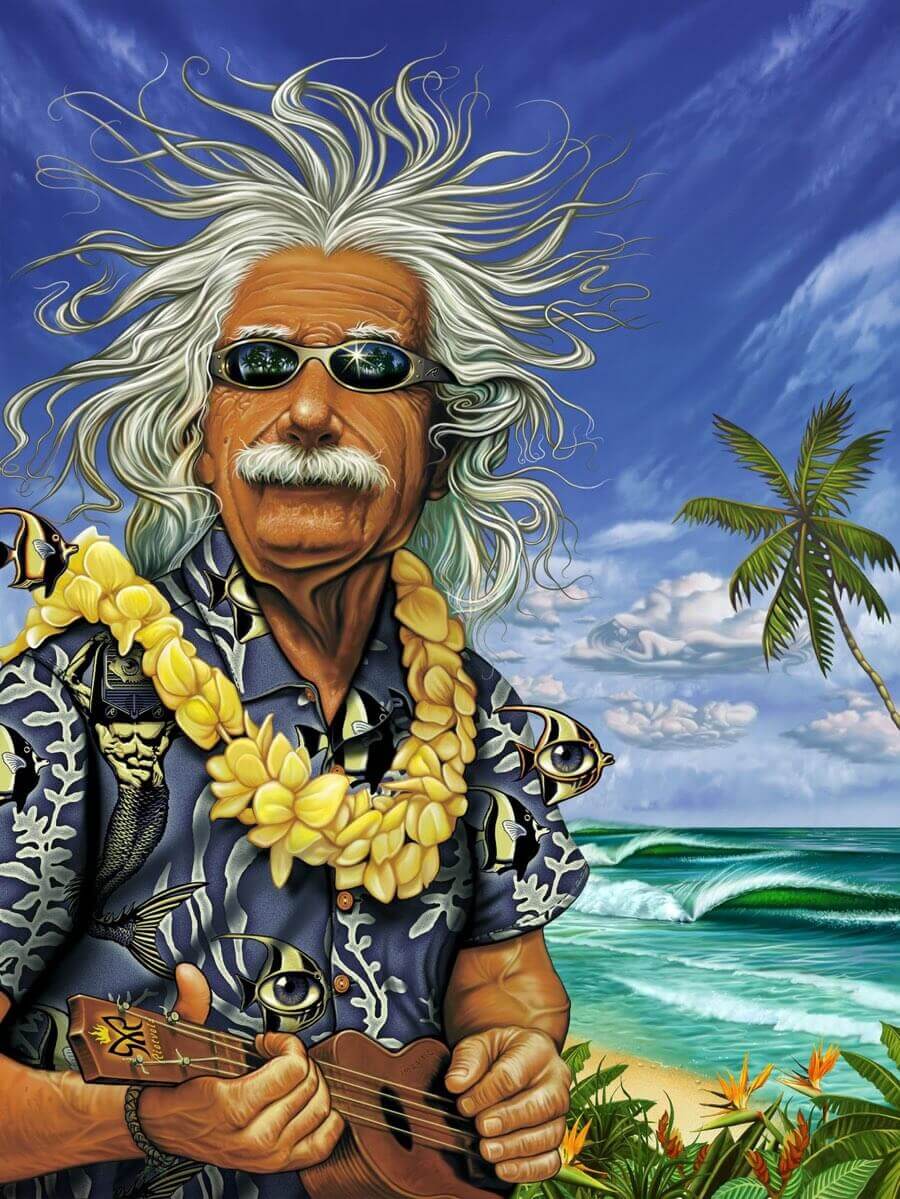 What does the future hold for your art?
RR: I'm in a great place now where I feel comfortable with all my creative tools and mediums that I have been practicing for most of my life. At present, I am working with larger scale paintings and I am experimenting with different combinations of techniques and mediums but I will always continue to create art inspired by the ocean, surfing, and music.
Rick's art was featured in the 2015 Triple Crown of Surfing poster.