We spoke to Phil Roberts about his incredible career in art. Phil is famous for his stunning, realistic yet dreamlike wave paintings, his painted surfboards, art, and winner's trophy he's created over the years for the Pipe Masters in Hawaii, his concept illustrations of wave parks, and for being one of the top movie poster illustrators in Hollywood.
Tell us about your background — where are you from?
PR: I'm from Melbourne, Florida, the surf capital of the east coast of the United States. I grew up with many legends and surf stars. I taught myself how to airbrush at 15 (the competition was so tough, no one was willing to give tips). When I was 16, I was spray painting bikinis at a sidewalk art show when I was offered a job to paint surfboards at Mike Tabelings factory by Dave Carson. That's how it all started. Surfboards led to magazines that led to movie posters and everything else.
You've been described as an illustrator, a renaissance painter, a sculptor… How would you describe your art?
PR: Figurative in any medium. I've always been drawn (pardon the pun) to the human figure and the challenge of capturing personalities since I started doing caricatures in high school. I've been very fortunate that my destiny as an artist has always been evident to me. I appreciate being blessed when I see my friends still struggling to find their talents. All I can say is shoot for the toughest challenges you dream of — you may surprise yourself — and that's where your answers lie in who you are. I'm stoked with what I was born to do, everything else has fallen into place.
What or who inspires your work?
PR: Italian Renaissance masters, 19th-century American illustrators, and sculptors. It's impossible to compete with a ghost (who were totally supported to do art by patrons), but they set the bar… and I want to set the bar in 'surf art'.
What is it about surfing and surf culture that inspires you?
PR: I love surfing, I'm addicted to waves. All I want to do is paint waves and the world around them. Besides, the surf community is my family that supported and gave my talent a home and an identity.
You seem to pay particular attention to form and figure in your art. How important do you think this level of study and detail is for an artist?
PR: If it's what you want to do, whatever it is, go all the way and beyond. You have one life. One shot. Why waste it being mediocre? I will not disrespect my God-given talent by taking it for granted, not sharing it, and always push it to the limits.
Tell us about your famed 'scientific illustrations' of how a wave works for Drew Kampion's The Book Of Waves.
PR: Drew Kampion and the Art Director, Jeff Girard, presented me with the open-ended challenge of illustrating the scientific info on waves and that's what I came up with… a slice of ocean and earth.
I did a lot of research and yes, they are National Geographic inspired (and have been copied by them since). I am still surprised at how far these illustrations have been circulated around the world. I have also discovered the weight of responsibility that goes with pictorialising scientific information even though it's still a hypothesis on a phenomenon. College students refer to them, they've been in Encyclopaedias and science magazines around the world… You've got to get it right. I had no idea what I was getting into when I painted them. I'm glad I did my homework! I would like to update them one day. I'm very grateful to have had the opportunity to do that job.
What was it like depicting Dale Velzy, one of the great pioneers of the surf industry and among the most colourful characters in surfing history, for the cover of Dale Velzy is Hawk?
PR: That was difficult to capture who that man was/is in one picture. I just tried to get into his head and guess how he would want to be portrayed and/or by whom. That's how I came up with the look and painting style of N.C. Wyeth and Frederic Remmington for a western surf hero portrait. It's intimidating to portray a legend, I'm going to try again in a less commercial way.
What have been the challenges and your fondest memories from illustrating movie posters for the Hollywood film industry?
PR: Very challenging, hard long hours, brutal criticisms, and outrageous overblown egos to deal with (it's not for everyone). You can't help but hone your skills. But knowing my work is in homes all around the world is a fulfilment few artists know. I get letters from kids I inspire. I've seen my work in my travels to China, Nepal, Australia, and Italy. And to work in the company of the best talent that Hollywood attracts, other artists, photographers, and actors has been a great confidence builder. I've met some great people, and gotten great compliments from peers and celebrities. It's nice company to be in for a surf artist from Florida.
Aside from painting and illustration, you also have a passion for sculpture?
PR: 3D is the most challenging art form (for me), you can't hide if you don't have skills. To breathe life into a sculpture portrait is very satisfying. Sculptures last forever. I see myself as a sculptor who can also draw and paint. It's sculpting I love most. I feel it's my gift and my speciality as a surf artist. I want to be known for my sculpture portraits of surf legends.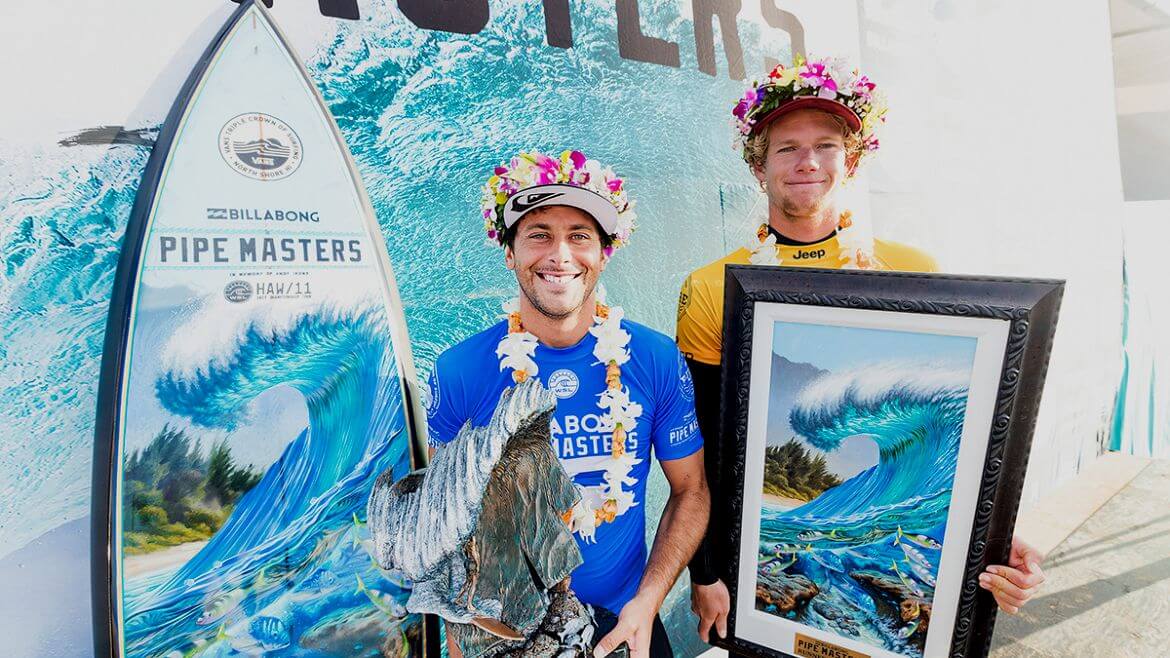 What would you like to work on most, given the time and freedom?
PR: More of the same! I am doing what I love. I created the commissions I've gotten by coming up with the concepts and getting them in front of the right patrons. Everyone has the ability to create their own success, I listen to my imagination and search out the avenues to make the ideas happen. It's simple… dream it, draw it, and send it out. See what comes back to you.
In your career so far, what are you most proud of?
PR: The Dec '82 cover of Surfer magazine (below), illustrations for The Book of Waves, Pipeline Masters trophy (pictured earlier), making Faberge' Eggs, designing surf theme parks for Tom Lochtefeld, and becoming one of the top 20 movie poster illustrators in the Hollywood movie industry. I hear my work may be going to the Smithsonian Museum in Washington. And I'm just getting started, lots to look forward to.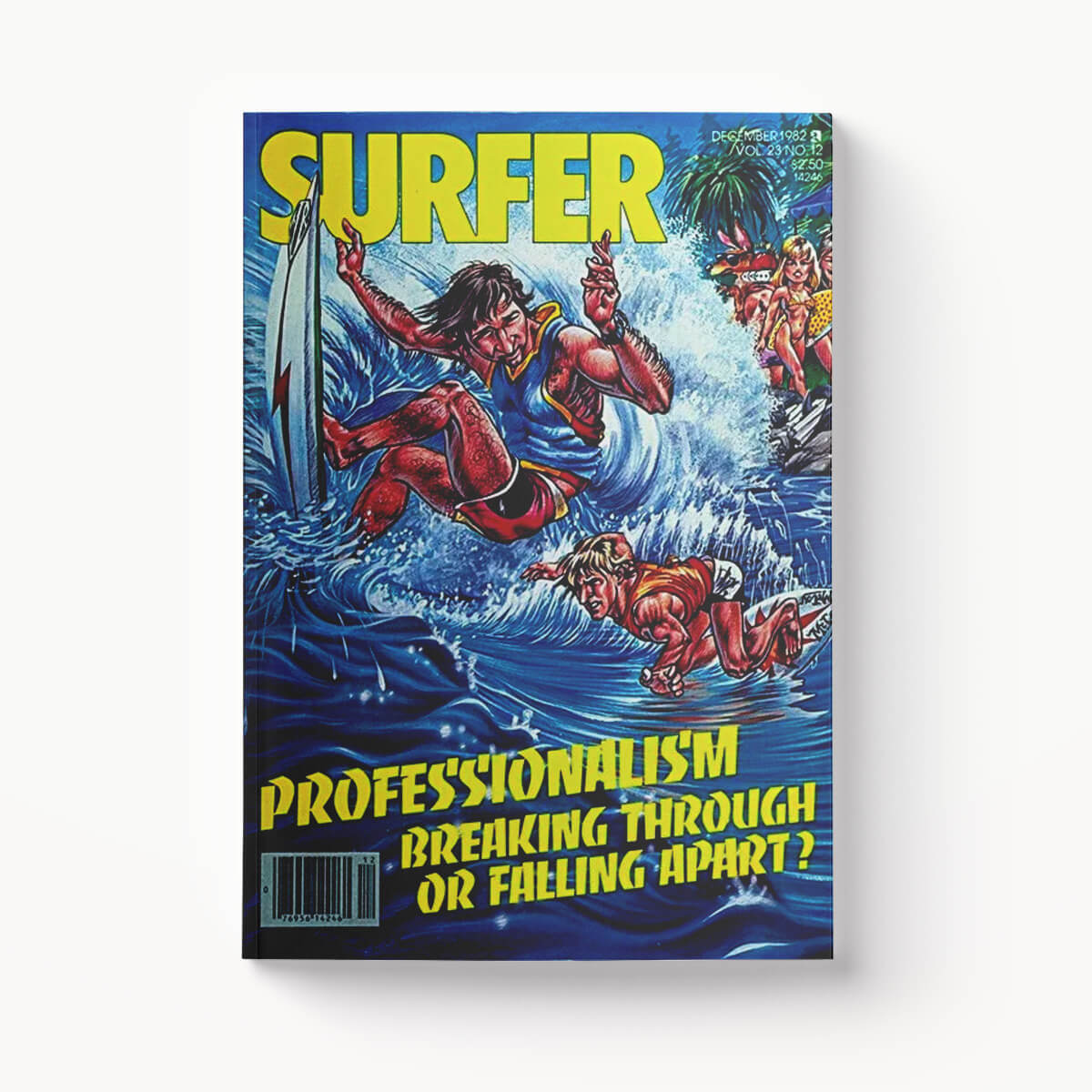 What does the future hold for your art?
PR: I'm going bigger… much bigger in bronze.
Read next…
Check out the feature we did about the Pipe Masters trophy and one-of-a-kind surfboards that Phil Roberts and legendary surfer and shaper, Gerry Lopez collaborate on for the Pipe Masters event in Hawaii.