Artist, Damian Fulton spoke to us about his unique spin on the Californian urban, beach, and surf scenes and culture. Damian has a very impressive background in the art and design industries, having worked for the likes of Marvel and Disney, which is apparent in his work.
Tell us about your background…
DF: I was born and raised in California, mostly around Orange County, home of Disneyland, Huntington Beach, and Richard Nixon. After college, Los Angeles' thriving entertainment and advertising scene lured me away and I now reside in the coastal community of El Segundo, best known for aerospace, gasoline refineries, and the best Mexican food in the South Bay.
Damian Fulton is unequivocally the preeminent surf artist of this generation.

Matt Kennedy, Director, La Luz de Jesus Gallery
What were your first experiences of surfing?
DF: My dad loved the beach. He could sail, bodysurf, and play a mean game of beach volleyball. In the late 60s, he borrowed what seemed like an aircraft carrier of a board from my uncle Ted and took my older brother, Mark, and me to the Newport River Jetty. I guess I was about 12. Unfortunately, we were landlocked about 10 miles inland and my dad was pretty busy putting dinner on the table for the five of us so I didn't go with any consistency until I could scrounge my own transportation.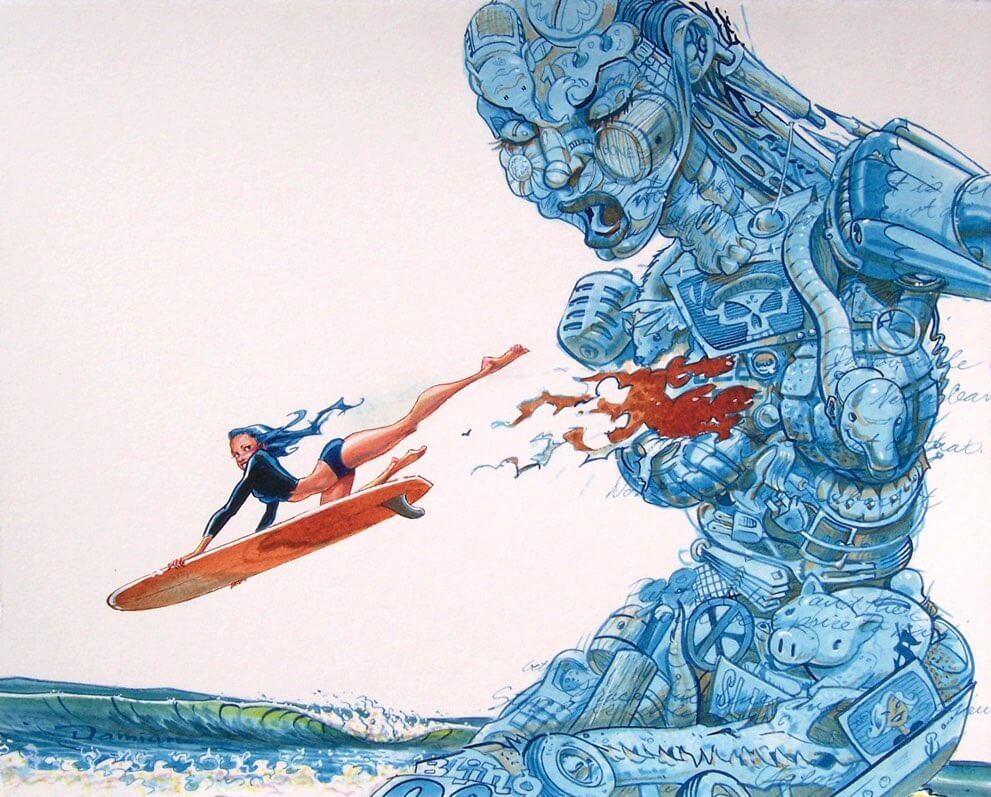 In your art, what is it about surfing and/or surf culture that inspires you so?
DF: At the risk of sounding cliché, the beach has always been a special and elusive place for me. When I was a kid, my brother Mark and our buddies would bungee cord a towel on our little Schwinn stingrays and pedal for what seemed to be hours to get to the beach. We'd stake out a spot on the sand and body surf and play in the waves all day long. We'd have like, 50 cents in our pockets from turning in empty pop bottles. I remember being so hungry. We'd pool our money and buy the cheapest thing on the menu at the snack shack… Strips! Deep-fried tortilla strips served in a little paper tray we'd smother with free hot sauce. It was irresistible torture because our mouths would be burning and we couldn't afford to buy anything to wash it down!
At the end of the day we'd hop on our bikes, sunburnt, thrashed, and salt-encrusted and make the long trek home in traffic. The next morning we'd wake up and do it all over again.
From these early adventures and impressions, I was imprinted with this attachment to the whole beach experience. The freedom, the hot burn of the sand and air on my feet and skin, and the refreshing cool of the moving, living ocean. Salt water was different from the land-locked stuff I encountered in stagnate park ponds and chlorinated swimming pools.
What was Surf City like back in those days?
DF: The vibe at Huntington Beach in the late 60s / early 70s was pretty wild and woolly compared to the kind of mallazation that's happening along the California coast today. As kids, we were pretty impressionable and the place was a collecting point for bikers, hippies, hot rodders, and of course surfers. The surfers were studs that ruled the beach, had the power to tame the seas, and were impervious to the elements. They got the hot chicks. They were just plain cool.
Damian Fulton does not airbrush surfing to make it more palatable for the masses…his paintings are unlikely to make it into a pair of hibiscus-print boardshorts anytime soon.

Marcus Sanders, Surfline
Your art combines urban and beach cultures. What made you take this approach, as opposed to the more conventional palm trees, sandy beaches, and perfect waves approach to conveying surf culture?
DF: I love all that classic surf stuff, the way Shorter and Hawaiian artists capture it. They've pegged it. But what's more interesting for me is the total experience of surfing, not just an idealized vision, especially how city life co-exists side by side with the ocean. Los Angeles surfers think about it all the time, through the cacophony of the workday. My experience is more urban. I grew up braving traffic, smog and Mexican gangs to get the reward of the water.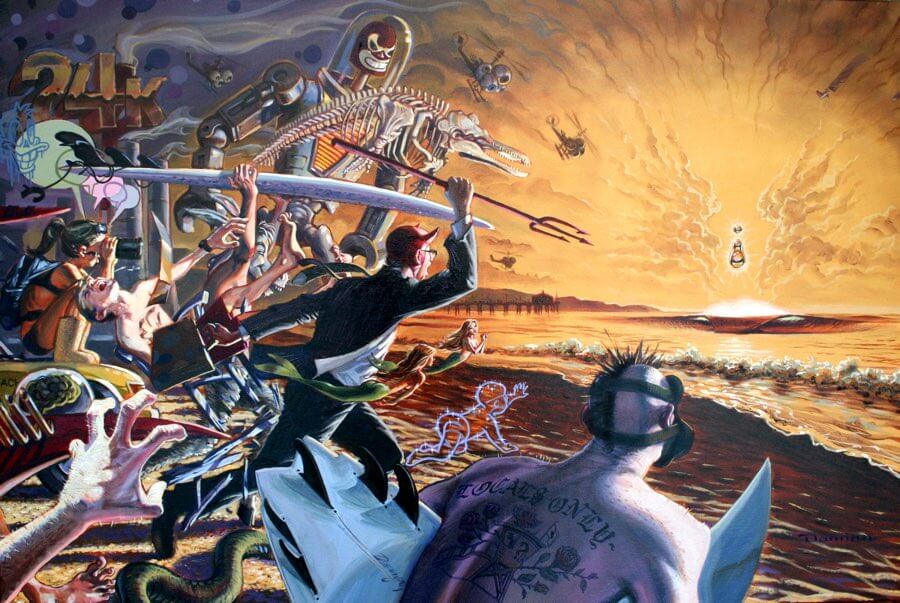 Talk about your early work with comic strips…
DF: I was drawing all the time, in class when I was supposed to and when I wasn't. I cartooned for the yearbook, school newspapers, and drew crazy monster skateboard/surf/hotrod t-shirts for friends. Some artist friends and I even got together, and published a rag we sophisticatedly called "THRUST! The magazine of sequential narrative art" (aka a comic book) and sold ad space to head shops and record stores to support it.
But cartoons weren't serious art. Except for "Peanuts", cartooning was underground and yet to become legit. In college I figured I better "get serious" and so I studied the respected disciplines of illustration and design.
The banality of color theory and Medieval art history was constipating. To blow off steam, my buddies and I used to ride these pre-mountain bike single speed urban assault bicycles all over the Newport Beach area under the cover of darkness, trying to find structures we could ride on that we shouldn't be riding on. The most talented, stylish rider was Dean Bradley, a photographer, and writer for BMX PUS! Magazine. Once I found out he had connections, I figured this could be my big illustration break. He got me in to see the editors and show my fancy student portfolio. I tried to convince these BMX guys that they should publish my oh-so-lofty serious art. They basically said, "Thanks Picasso, but what we really need is a cool comic strip."
I left their offices with my artsy-fartsy tail between my legs. Eventually, I came around and did up a little one-pager starring this mysteriously talented BMX kid with an over productive rad gland and Radical Rick was born.
Later on, Surfer Publications contacted me to do a cartoon for one of their magazines and I was so stoked. Visions of the next Murf the Surf era danced in my head. Their offices were really impressive, classic surfboards and beautifully framed photography lined the walls. I think it was in Dana Point. I remember how professional and corporate in a good way it all seemed. It was cool to be there among so many flourishing surf people.
The assignment wasn't exactly what I thought. The editor from POWDER, a hardcore skier's magazine met me and wanted to inject a little humor via a comic strip into the periodical.
"Cool", I thought. It wasn't surfing but I knew and loved skiing. My Dad had carted all of us kids up to the local mountains and we were on skis pretty early and often. Every year during college, when the fall semester was over, I would move up to Tahoe or Big Bear for the winter and teach skiing for a little extra cash.
A week later I showed up with a strip I thought was pretty funny and weird about "triplets separated at birth and raised in three different elevations, reunited by the magic of fluffy frozen H2O". They liked it alright, but wanted it for the inaugural issue of SNOWBOARDER magazine. Problem was I drew the Bros as skiers and they wanted the characters to be snowboarders. To make a long story short, we sort of compromised, ending up with two boarders and one telemarker. The SHRED BROTHERS didn't turn out to be the next Murf the Surf I had hoped for but I did have a blast doing it.
Early in your career, you were commissioned by Ocean Pacific (OP) to create a poster for their Pro Surf Event…
DF: I just graduated from California State University Fullerton and was painting posters for BMX races and advertisements. I don't remember exactly how we hooked up. The first poster I painted for OP contrasted these sepia-toned, pioneering surfers on balsa guns charging big Waimea [Bay, Hawaii] against the image of a colorful shortboarder (the Thruster surfboard was just hitting it big) blasting the lip of a glassy turquoise wave.
The next assignment was the Huntington Beach OP pro. It had become quite a notorious event after punks rioted and burned a bunch of cop cars. I considered the commission a privilege, and think I did it justice. The original is probably hanging in some long lost friend's den. Thankfully there are still a few of the posters left rolled up in my attic somewhere.
What was your involvement with Disney?
DF: I worked for Disneyland creating limited editions for special events (like the 35th anniversary of the Haunted Mansion or the park's big 50-year celebration) and one of a kind custom paintings. They would turn the artwork into a matching wristwatch for guests. I remember painting Goofy riding Sunset on a 9′ Tyler. For the record, he IS a goofy footer.
But years ago, before all that, I directed a whole slew of TV commercials for a toy company that licensed the classic Disney Characters. You know, Mickey, Donald, Goofy and crew, the heavies. You can't use those dudes in advertising anymore. We worked with the old Disney artists, creating animation the old fashioned way, hand drawn and painted without computers. I've always respected those guys, the way they could take a series of static drawings, fill them with emotion, breath life into them and make them come alive, like Dr. Frankenstein!
What was it like to be involved with Marvel?
DF: The best part was being around so many talented people, artists, producers, and animators. I was always more of a DC guy (Batman, Superman, etc), but meeting Stan Lee changed all that.
Is it right that you have only just, in recent years, exhibited your work for the first time?
DF: It was an awesome journey. For a zillion years, I painted, designed, directed, created for clients, magazines, and companies… basically other people. I just suddenly decided to stop that and create 'art' for another target…me.
The gallery thing happened serendipitously. I had been painting my personal urban surf stuff, stealthily in my garage studio. No one knew what I was up to and I didn't want to come on to the scene without a body of work that would define what I was trying to do. So I just painted, didn't know what the heck I would do with all these images but figured if I kept hammering away at the canvas it would all work out.
I think it was my daughter Hayley, an artist in her own right, who snuck info about my secret artwork project to Gasoline Gallery owner and curator, Mark Waldman. He eventually saw the work and booked me for what would be my first solo exhibit. After Mark and I hung the show, I looked around the space and just enjoyed the moment, the sight of everything presented so orderly with little title cards announcing my debut into the fine art world. It all looked so much better out of my hiding place of a studio and on freshly painted, well-lit walls.
His work is timeless, sometimes appearing vintage and others walking the line of futurism.

Mark Waldman, Owner, El Cuervo Gallery
So finally you crossed over to the 'fine art' world and you could relax?
DF: No. The anxiety set in. What if I put this stuff out there and nobody showed. I was so nervous I invited everyone I knew or kind of knew and passed out postcards advertising the exhibit to complete strangers at the beach. Thankfully, out of pity or fear of reprisal, friends and family showed up and surprisingly a ton of folks who just like art. On the night of the reception, I never sat down, stopped talking, or ate. It was intense. I didn't want to miss anyone, or not answer a question about a piece or short-change a chat about favorite surf spot. A real revelation was how so many people were compelled to tell me what the pieces were saying — theories, interpretations, and stories I never even intended when I painted them. It was cool to hear how their experiences were coming out of the art.
Are there any other artists, individuals or organisations that inspire your work?
DF: Norman Rockwell + Mad Magazine + N.C. Wyeth + Tex Avery + Batman + Ed Roth + Brothers Hilderbrand + Los Angeles gestalt + Frankenstein + Frazetta + California cars + Walt Disney + Monster model kits + Jesus Christ = Damian Fulton.
What does the future hold for your art?
DF: I just want to make art, hopefully figuring out along the way how to put down this whole life/beach experience. If others like what's unique for me, then that's a bonus.