Ex-aspiring professional surfer turned artist, Drew Brophy is known for pioneering surfboard painting with POSCA pens, and his surfboards are now collected by the likes of Eddie Vedder of Pearl Jam. Drew talked to us about his career in art.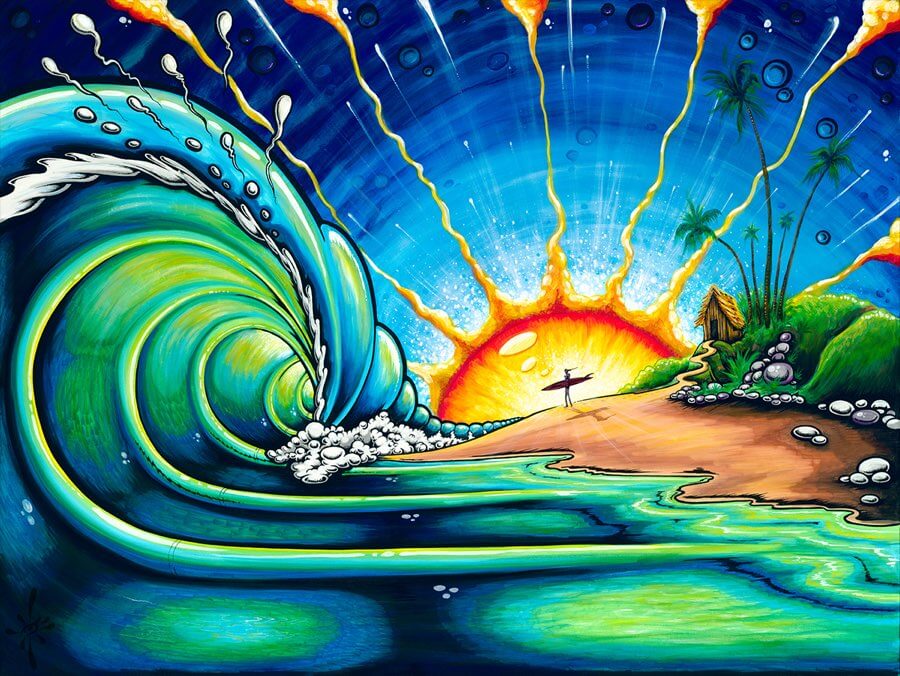 Tell us about your background?
DB: I'm originally from Myrtle Beach, South Carolina. I grew up surfing in a place with few surfers. Instead of avoiding crowds we looked for each other for company! Surfing in Myrtle Beach, like other places on the East Coast, I felt as if I were part of a select group of people that knew a secret that other people didn't get – surfing. What a simple, great thing. After high school, I moved to the North Shore of Oahu, Hawaii where I feel every surfer should go and experience the scale and extremes of surfing. Three years after that, I came to San Clemente, California for a summer to work and discovered it was a great place to live and establish my career. It was a lot easier to make money here than Hawaii. I'm still living and working in San Clemente twelve years later!
Originally, you set out to be a professional surfer?
DB: When I was a kid I was one of the best surfers in South Carolina, and I had dreams to be a pro surfer like anybody else. I was surfing the same contests with Taylor Knox, Shane Beschen, and Donavon Frankenreiter. But being from South Carolina was a barrier — it was so much effort for me to be in touch with what was going on and to actually get to the contests, earn the money, get on the plane, that by the time I got to where the contest was, I was so worried about where I would sleep that night that focusing on competing was second. I didn't succeed in the contests! After failing to be a competitor on the amateur level, I decided my goal would be to make it to Hawaii and surf waves of that level.
And how did you come to be an artist?
DB: Other than surfing and playing the guitar, I was good at painting. Surfing failed, I played in a lot of bands and it wasn't for me, so I was left with art!
As an artist, where do you draw inspiration from?
DB: The environment, the sun, the waves, life, mainly surfing.
I've seen your work described as: "Seeing his paintings is like seeing his dreams". How would you describe your art?
DB: I would describe my art like this: I dream of surfing perfect, gnarly waves. I dream of idyllic places, a simple life, and in my dark moods, I dream about how in their absence it's a curse. I guess as I get older and learn to understand life better, I'll one day learn how to paint well, then maybe I'll paint something really meaningful!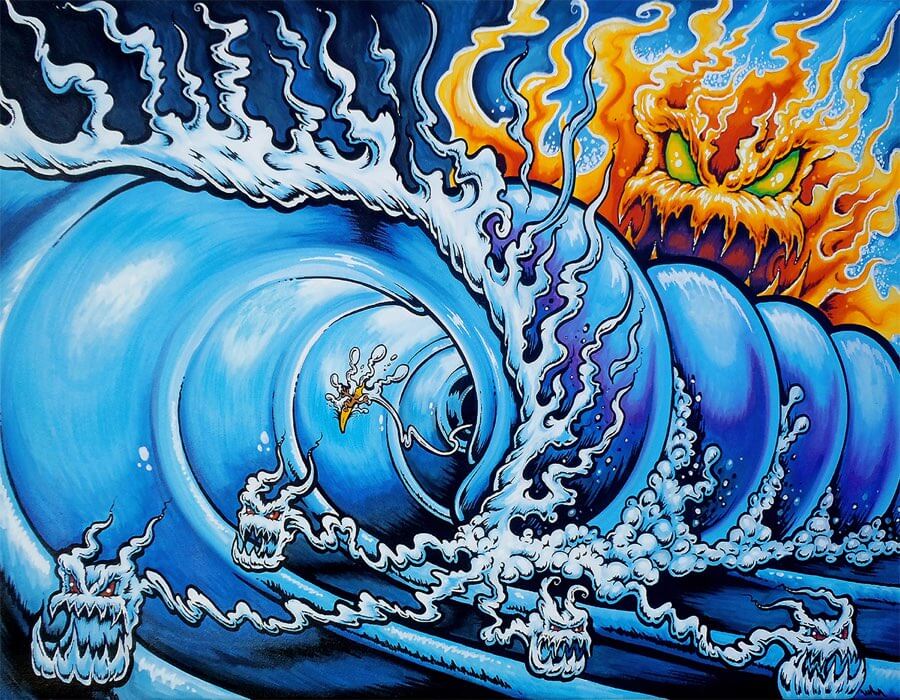 You're said to create over 100 new art pieces a year?
DB: In the last 3 weeks, I did 25 complete ink drawings, 9 commercial paintings, 3 fine art paintings, 3 abstract paintings (one is 4′ x 8′). You must understand that I live and breathe imagination and art. This is my job, this is all I do other than surf and play guitar. This huge output is an example of a painting schedule that I put myself on for a time period. Then I'll go into a business schedule where I don't create anything for a few weeks, and then the cycle starts again. It's necessary for me to block the two out (business vs. painting) because they don't mix.
DB: I started painting my own surfboards as a kid. I had a neighbor named Dick Rosen who went to Japan and brought me back a set of POSCA paint pens. Those pens changed my life. I was no longer constrained to sponge painting and airbrushing.
The first thing I painted with these pens was a dragon. Everyone lit up over it. From there, I painted friends' boards and explored the possibilities of what I could do on a larger scale. I approached the local surfboard shapers and retailers asking if I could paint boards like this. They were nervous about this new technique and weren't interested. Then I went to Hawaii, and I was confident companies there would be receptive to my painting their boards with these techniques. But they weren't either! At that time in Hawaii, most of my paint pen boards were for the underground surfers who charged the waves every day — the real local surfers.
In the spring of 1996, I moved to California and my goal was to paint surfboards at Stewart Surfboards as they did the most volume at the time. He hired me but only wanted me to airbrush. Then I approached other successful shapers, like Spyder Surfboards — and they didn't get it either. There was only one other person I knew of that painted surfboards as I did; Matt Biolos of Lost Surfboards. So I approached Matt and said: "You are better at shaping and I'm better at painting — let me paint your boards". It was an instant success. Finally, someone got it! We went all over the world shaping and painting loads of surfboards. That was about ten years ago, and it changed the way surfboards are painted forever.
I've painted thousands of surfboards since then, and my boards are collected all over the world. I get emails every day from artists worldwide wanting to know about my painting techniques, how to get a job doing this, how I blend my colors, and so on. The greatest thing is, many artists now paint surfboards the way I always envisioned. Fifteen years ago this profession didn't even exist!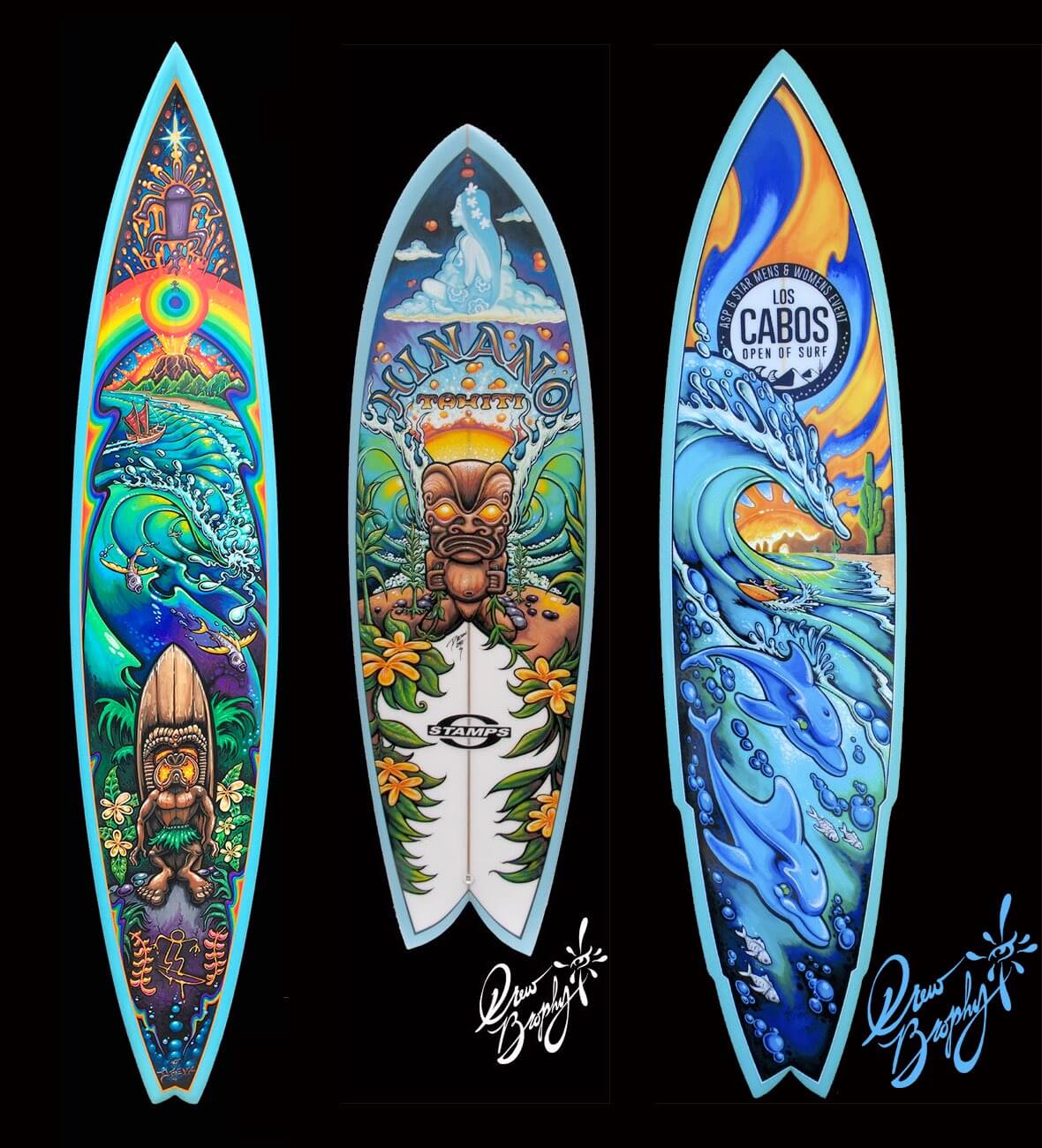 Is it true that you have a number of high profile collectors of your surfboards and paintings?
DB: Yes, it's true. Some of the collectors of my paintings on surfboards include the Hard Rock Casino, Eddie Vedder, Vince Neil, Uncle Cracker, and others. I limit my full-board paintings to 12 a year now, which helps keep up the value and make it special for the collectors.
You are an ocean activist and conservationist?
DB: I've been fortunate to travel all over the world and it's clear that the ocean and environment need our help. Groups like the Surfrider Foundation know the issues and need all our support. I'd do anything for them. Some people have money, some have time, some have fame, I have art. It's important to me to be able to participate.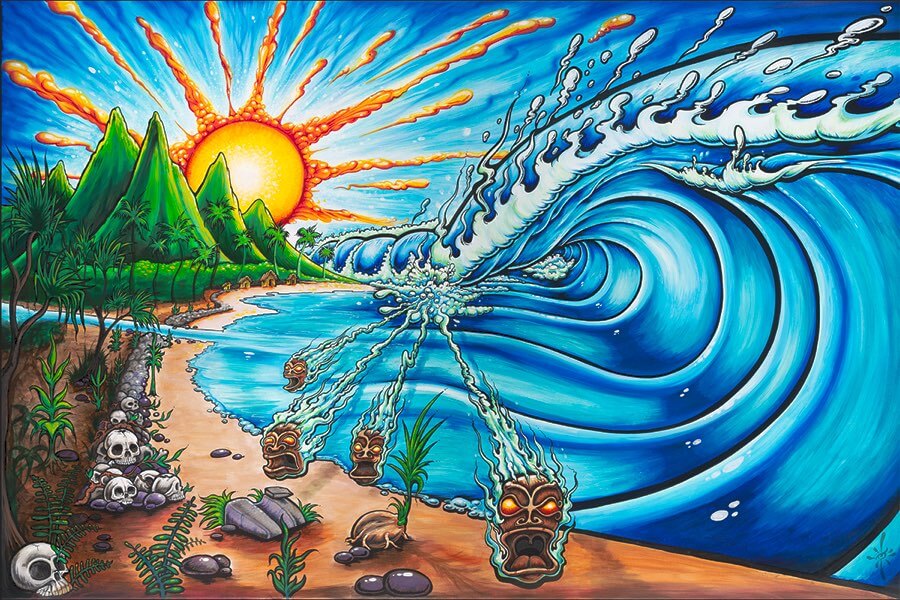 Tell us about Son of the Sea?
DB: Son of the Sea is a company my wife, Maria and I started in 2002. It is an agency that represents artists in the surf industry and beyond. We focus our efforts on licensing, which Maria handles. She interacts with our clients and the artists we work with. There is a great need for artists to have someone handle their deals and look out for their best interests. She's an expert on that. We currently represent several artists on a full-time basis and we help out many more on a need by need basis. Wte mentor a lot of artists too, helping them with their careers and difficult decisions.
Your website takes full advantage of modern technologies, from video tutorials to podcasts. You seem to be exploring every avenue there is for communicating your art to your fans?
DB: Our website has evolved so much over the years. In 1998, a friend of mine pressured me to get a website, so I did. Since then, it's been the best decision I ever made. It allowed me to be an entity all my own without help from the surf industry or anyone else. My friend, Charlie took over my website a few years ago and added his talent and wit, making it fun and interactive, always on the cutting edge. Yeah, I feel that demonstrating and communicating with artists is the best way to show people how this is done. It's not often you find yourself in front of people wanting to know information or advice from you. It feels good to be able to pass the information on. I wish I'd had someone to turn to for answers!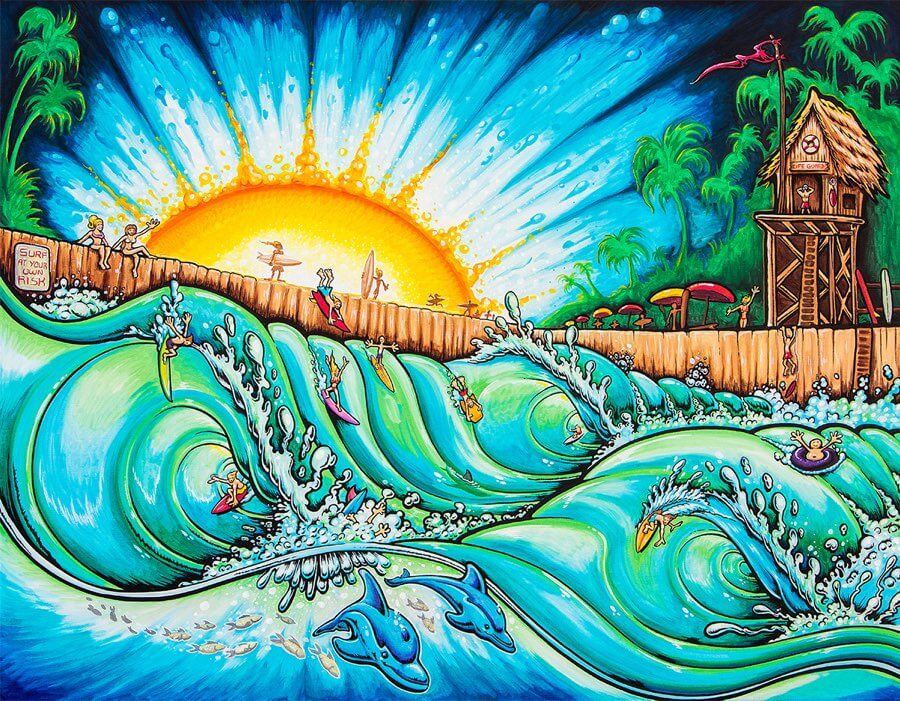 And finally, what does the future hold for Drew Brophy?
DB: Some exciting new things going on: Seven Films is putting together a 'Paint your Board with Drew Brophy' film, which will be released in Spring 2008. I have a sunscreen line coming out in the spring. I'm working with Sesame Street on a limited edition clothing line for children. Maria just sealed a deal where my art will be on merchandise at The Hard Rock Restaurants -— their guitar and rock and roll items. Overall, my goals are to continue living the dream of surfing, painting, sharing a life with my wife and son, helping my fellow artists and having a positive impact on our art community. The cool thing about being an artist, you never retire, you just get better and better!