The origins of big wave surfing date back to the 1940s and 50s. George Downing, Wally Froiseth, Woody Brown, and Buzzy Trent (among others), are considered the forefathers of big wave riding. It was these heroic surfers that were the first to take on the big waves at Makaha, Hawaii.
George Downing also developed the first big wave surfboard, making the bigger waves more accessible. It was the image of Downing, Froiseth, and Trent in 1953 — riding a huge wave — on the front page of a Californian newspaper, which stunned Californian surfers into migrating to Hawaii in search of these big, warm water waves in paradise.
These men paved the way for a new generation of fearless, care-free Californians, alongside the Hawaiians, to dominate the Hawaiian waves and push big wave surfing to higher and higher levels, uncovering and riding larger and heavier waves as they went.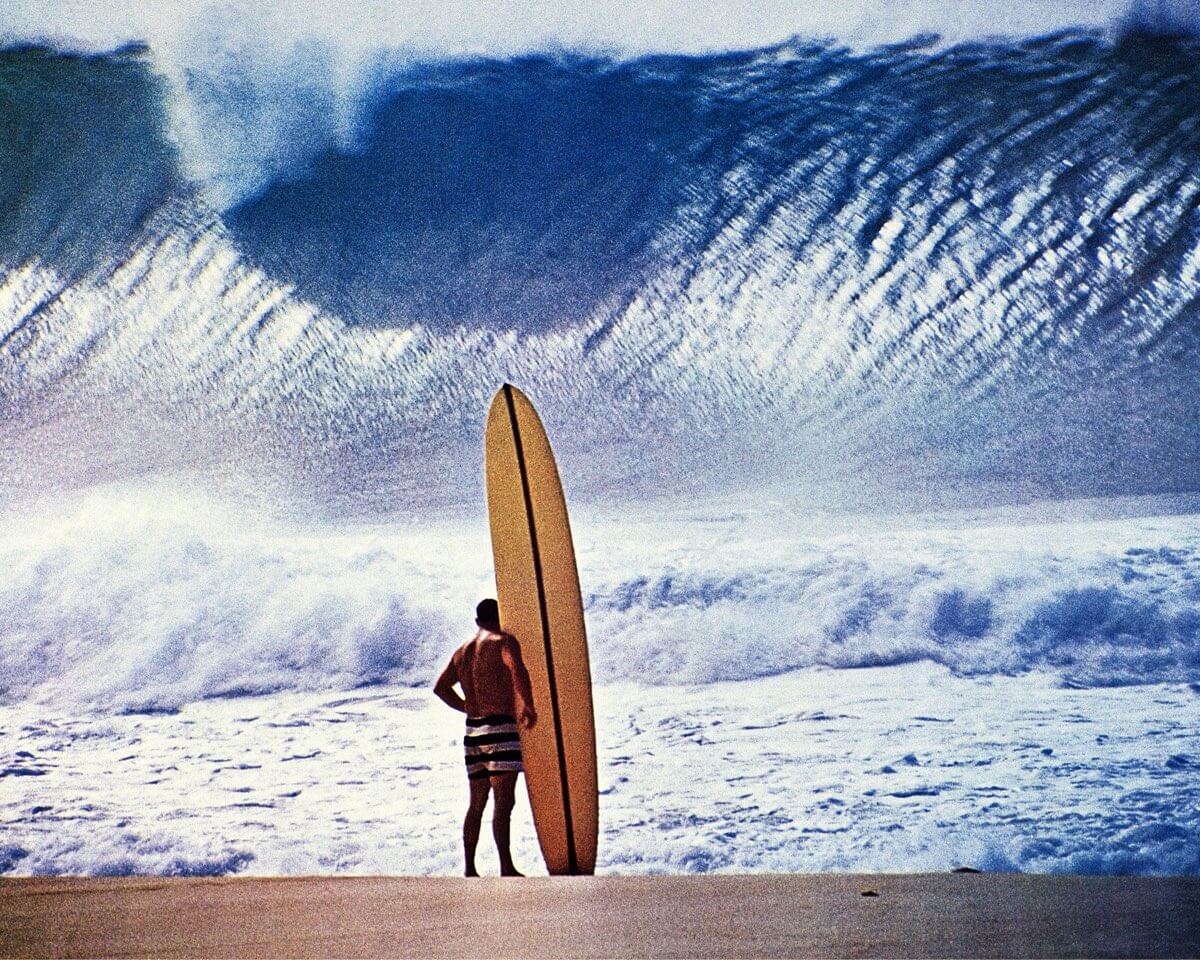 Greg Noll
Born in 1937 in California. Greg was an accomplished lifeguard and a very powerful swimmer, which obviously is a major advantage in getting out to the bigger waves! He is perhaps most famous for his pioneering and domination of Waimea Bay, a wave he describes as being his "gal" (girl).
He is widely renowned as being surfing's first 'big wave celebrity', nicknamed 'Da Bull' for his powerful surfing style, his big personality, and his iconic black & white striped shorts.
In 1953, Greg made the migration to Hawaii, with a number of other Californian surfers, and surfed Makaha, which at the time would have been the biggest wave surfed. He would surf every day, and live off the land.
Later, Greg and his crew made the trip to the foreboding north shore of Oahu, Hawaii. They uncovered a haven of surf coastline, with huge waves. And again lived off the land, sleeping on the beach, or where they could. And then in 1957, committed to being one of the first to surf Waimea Bay.
Greg is also a very skilled shaper, taught by the great Dale Velzy. He combined his big-wave surfing fame with his shaping skills and formed a business alliance with Miki Dora, manufacturing the popular 'Da Cat' surfboards. Subsequently creating one of the most successful advertising campaigns in surfing history. Greg was also an accomplished surf filmmaker, inspired by his love for surfing.
In 1969 Greg rode what was deemed one of the biggest waves in history at Makaha, during a heavy storm. The wave was not photographed, but the surfers that witnessed it hailed it as being "huge".
With this feet he retired from surfing and disappeared from the surf scene for a while, running his successful surfboard manufacturing company: Greg Noll Surfboards. He returned when the longboard was rediscovered, and started shaping a limited number of collectible surfboards and organising 'legend' surf contests, comprising some of the world's greatest surfing names.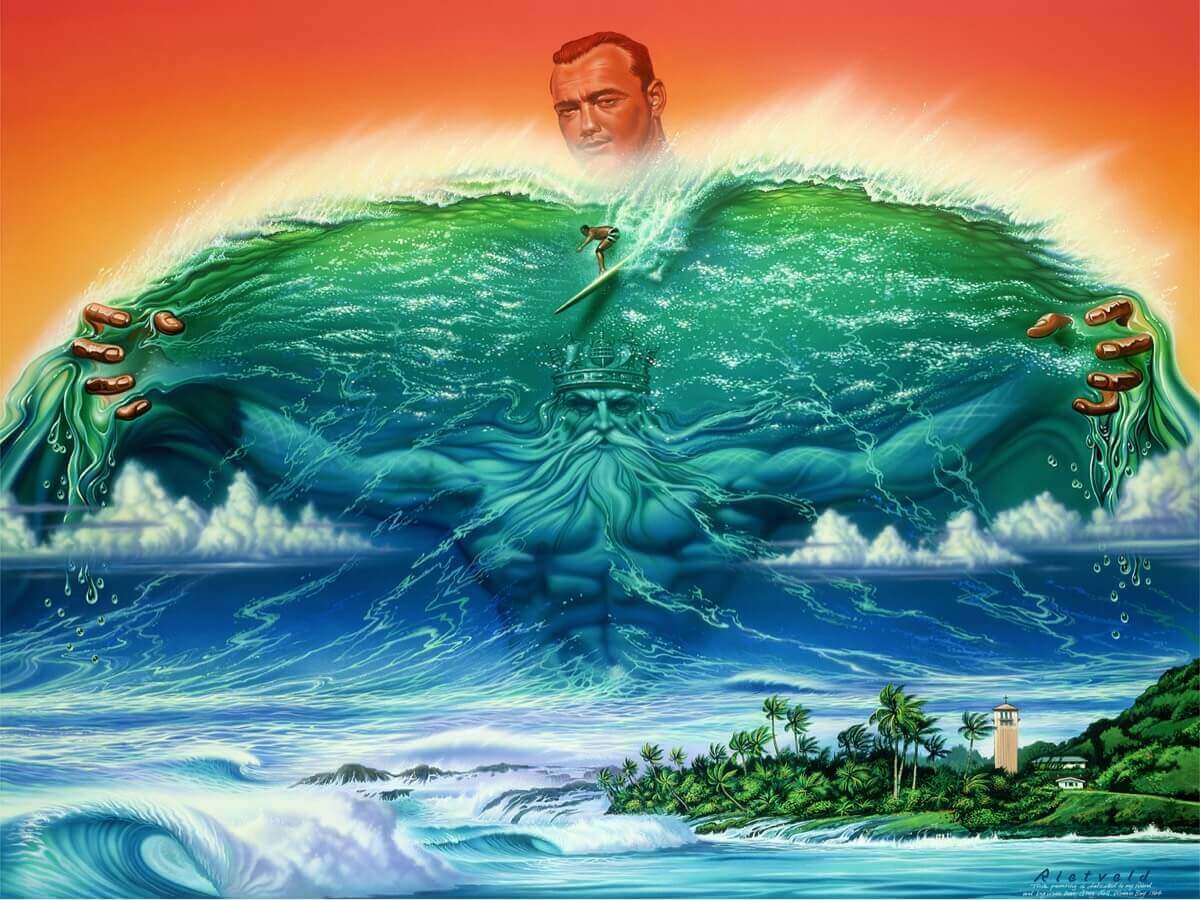 Waimea Bay pioneers
Among which of course was Greg Noll, the original crew to charge Waimea Bay were Pat Curren, Fred Van Dyke, Mickey Munoz, Mike Stang, Del Cannon, Bing Copeland, Bob Bermell, Peter Cole, Harry Church, Ricky Grigg and Buzzy Trent (among others).
These brave men committed to being the first to surf Waimea Bay, a huge wave, feared by surfers quite literally as being a 'killer wave' (claiming the life of surfer, Dickie Cross, whose body was never found).
They lived off the land, sleeping on the beach, in their cars, or wherever they could find shelter. Diving for fish. Stealing chicken, local fruit and coconuts. They lived a playful lifestyle, surfing every day, entertaining themselves with any childish pursuits they could imagine. A lifestyle you can only be envious of.
Pat Curren
A popular family name in surf history and indeed on this site! Pat Curren was one of the first of the Californian surfers to charge the north shore of Hawaii, and conquer Waimea Bay for the first time. He is considered one of the best big waves surfers in history, and also a very talented shaper. And highly respected in surfing history.
In 1964 Pat's first son was born: Tom Curren. Tom grew up to be one of surfings greatest, most influential surfers, winning the world title three times, his first in 1985 at only 19 years old. Pat, has two other younger children: Anna and Joe Curren.
Jose Angel
Jose is one of the most fearless and best surfers of all time. Jose would take off on giant waves that no one else would even consider. He'd even re-surface from horrific wipeouts laughing. To him, it was all part of the fun. And was also known to do radical back-flips or such like off of his board in huge Waimea waves. He was fearless.
Jose was a free surfer; he was never interested in competing. Surprisingly enough he was the Principal of a Hawaiian school, and even skipped school/work one day to surf, only to get caught out pictured on the front page of a local newspaper! Much to the amusement of his friends, and the bemusement of his superintendent! However, his students thought he was cool!
Jose was on the cover of the very first issue of Surfer magazine, and later Surfer labelled him the 'Bravest Surfer of All Time'.
Along with surfing, he also loved deep-sea diving. Often free diving extreme distances without the aid of any breathing apparatus. He knew no limits and kept going deeper.
Originally from California, Jose moved to Hawaii, married and started a family. With the death of his mother, Jose started to change. Blaming himself for his mother's death, he had an affair and left his wife and kids. These emotional problems led to him pushing the boundaries even further, one day staying down too long and getting 'the bends' leaving him partially paralysed in one leg. This led to the demise of his surfing. And eventually cost him his life, when he dove down to a depth of 300ft, ran out of air and tragically never re-surfaced.
Eddie Aikau
One of the most respected names in surfing. He was the first lifeguard at Waimea Bay on the North Shore of Oahu, Hawaii, saving thousands of lives.
Eddie was known as being the embodiment of the 'aloha' spirit. And comparisons were drawn between Eddie and the late, great Duke Kahanamoku, who was Eddie's idol.
From a young age, Eddie and his brother Clyde saved up their money to buy their boards, then work their way up through the Hawaiian breaks, until Eddie finally surfed Waimea Bay in 1967. One day he paddled out with all the great surfers of the time (including Greg Noll & co), and literally out-surfed them all, all day long. Photographs of Eddie surfing that day made it into Life magazine, and a new star was born.
Eddie continued to dominate in big Hawaiian surf, winning the prestigious 1977 Duke Kahanamoku Invitational Surfing Championship. Hawaiian locals adopted the saying "Eddie Would Go", which simply referred to his fearless approach to taking on waves others wouldn't dare attempt, and also his devotion to rescuing people in dangerous situations.
Eddie was very fond of his Hawaiian heritage. And in 1978, he embarked on a voyage to rediscover the journey of ancient Polynesian's between Hawaiian and Tahitian Islands. He accompanied a crew aboard the Hokule'a (a traditional double-hulled sailing canoe), which set sail on 16th March 1978. Soon into the voyage, the canoe hit stormy weather, developed a leak and capsized. Selflessly, Eddie paddled for shore to get help but was never seen again, despite extensive searches. The crew of the Hokule'a were later rescued by the U.S. Coast Guard.
Eddie is fondly remembered in the surfing world for his heroism, aloha spirit, and remarkable skills as a surfer and waterman.
Brock Little
Brock is the perfect example of the "Eddie Would Go" frameset of mind! He rose to fame in the 80s and 90s through his fearless approach to riding giant waves, paddling into some of the biggest waves ever ridden without the aid of a jet ski.
Brock was born in California and moved to Hawaii with his family at age 10. He started surfing at the young age of 7 and is now regarded as one of Hawaii's North Shores most accomplished watermen. Brock's confident, fearless, and aggressive approach to riding waves has led to him following a successful career as a Hollywood Stuntman, working on big films like Lords Of Dogtown, The Italian Job, and Transformers!
Brock is perhaps best known for his epic ride in the 1990 Eddie Aikau Big Wave Invitational contest, where at only 23 years old, Brock scored a tube ride on a 25+ foot bomb! Well and truly securing his name in big wave surfing history!
Jeff Clark
The man who conquered Mavericks, in Northern California. A wave which is considered a natural phenomenon, in that it is a huge powerful wave, yet it breaks like a smaller, crested 6ft wave. A particularly dangerous wave, not just for its awesome power, but because it is a point break, breaking over and into rocks. A freak wave for California, due to its huge size.
Jeff surfed Mavericks alone for 15 years, as no one else would dare, in fact, people thought he was mad for even attempting it.
The wave breaks half a mile off-shore. The paddle out takes over 45 minutes through a maze of rocks and rip currents. So it's not hard to understand why he surfed alone for so long.
Jeff eventually persuaded two surfers to paddle out with him: Dave Schmitt and Tom Powers. The word was out. And in 1992, Surfer Magazine published an article, exposing Mavericks, entitled 'Cold Sweat'. The article inevitably attracted surf media attention and new surfers to the spot from both California and Hawaii, transforming Mavericks into one of the best and well-known big wave spots in the world.
"If you want the ultimate thrill, you've got to be willing to pay the ultimate price."

Mark Foo
Mark Foo
Of the first Hawaiian's who travelled to Mavericks to surf, was Mark Foo, accompanied by Ken Bradshaw and Brock Little. On that tragic day in 1994, Mark took off on a wave, wiped out, and was later found dead in the water by Evan Slater. It remains a mystery what killed him, but many believe he was held down by his leash, caught on the rocky bottom, and subsequently drowned. It ruined what was otherwise a great day of surfing at Mavericks, with so many big names out in the water.
Mark was one of the 'next generation' of surfers to surf Waimea, after Greg Noll and co. He became famous for being a sponsored professional surfer, riding smaller thruster boards, with a leash, apposed to the longer boards, ridden by his predecessors without a leash.
Mark once said, with regard to his dedication to surfing big waves: "If you want the ultimate thrill, you've got to be willing to pay the ultimate price", a quote which became famous after his tragic fatal fall at Mavericks in 1994.
Laird Hamilton
Considered by many as the greatest big wave surfer of them all! It seems the man has no fear! He revolutionalised big wave riding by pioneering tow-in surfing, along with his two close friends Buzzy Kerbox and Darrick Doerner, and has since continued to push the limits further than anyone thought possible.
It all started when a young (Californian) Laird and his mother visited the North Shore of Oahu, Hawaii. Upon playing in the sea, Laird had a chance encounter with one of the most popular surfers at Pipeline, Billy Hamilton. They soon took a liking for each other, and Billy eventually married Laird's mother and adopted Laird, giving him his name: Laird Hamilton.
Growing up in Hawaiian schools was difficult for Laird, being one of the only white/blonde kids (a stereotypical haole/surfer). And so Laird latched onto an older generation of surfers who were, at the time, pioneering shortboard surfing at Pipeline and big wave surfers, including his father, Billy.
And so Laird naturally became a great surfer at Pipeline. But this wasn't enough, and so he started to experiment with bigger, faster waves, made possible by his windsurfing.
Through modelling, Laird met up with pro surfer Buzzy Kerbox. Together they would fool around wakeboarding, with a zodiac, a tow rope, and a surfboard. This inspired the two, along with Darrick Doerner, to try the same thing, but with bigger waves in the sea.
Inspired also by the short strap-in boards used in snowboarding, Laird, with the help of surfboard shapers Dick Brewer, Billy Hamilton, and Gerry Lopez, designed a shorter board with foot straps. And so tow-in surfing was born. In time, the zodiac was soon replaced by the jet-ski (for speed and mobility), and Laird would continue to push the boundaries there forth.
Laird went from surfing 30ft waves to 50+ ft waves when he conquered the then-unknown/un-ridden, Peahi (aka Jaws) off the coast of Maui, Hawaii.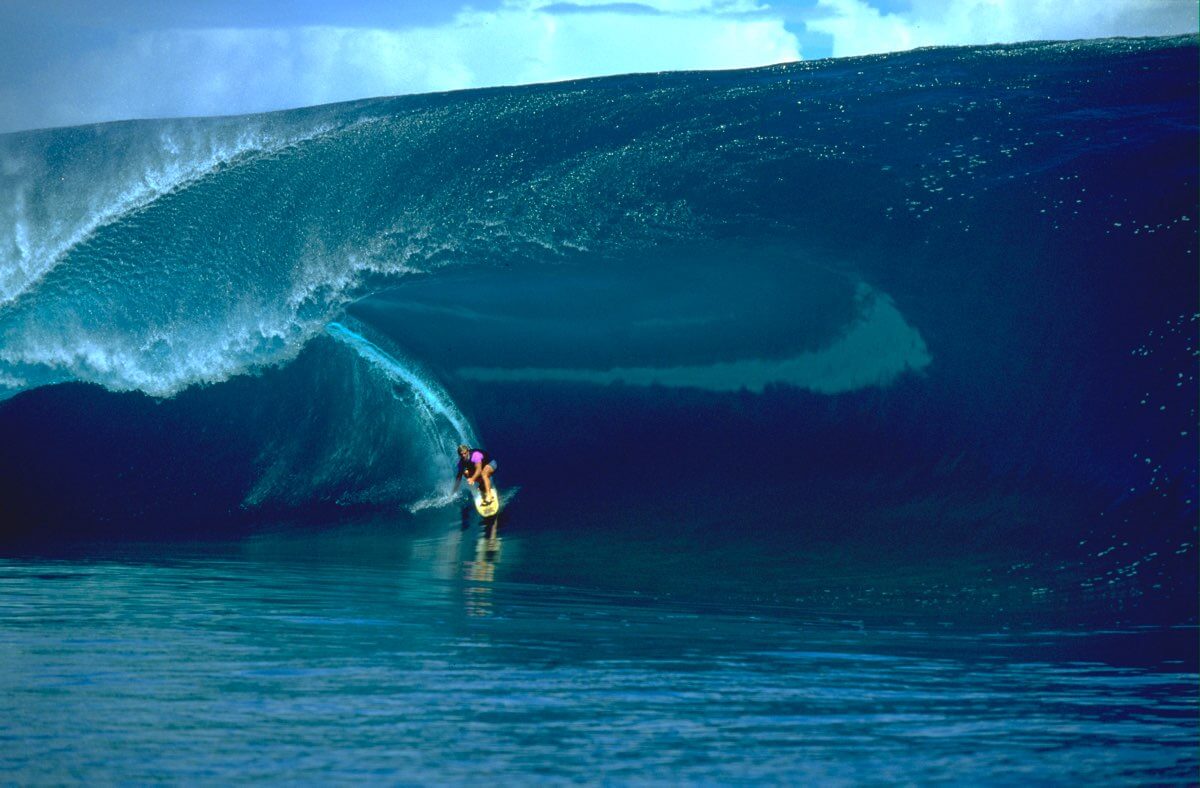 On August 17, 2000, Laird again redefined what was possible in big wave surfing, as the first person to surf the fearsome Teahupo'o in Tahiti. Described by many as the heaviest wave in the world, Teahupo'o is a huge wave that breaks onto shallow water and sharp reef. Laird's first wave at Teahupo'o (pictured above) went down in tow-in surfing history, dubbed as the "Millennium Wave", and featured on the cover of Surfer magazine.
Laird's fearless approach to big wave riding has earned him the respect and admiration he deserves from surfers around the world, continuing to push the boundaries of his own mortality. Truly a great waterman.
Darrick Doerner
Big wave surfer, North Shore lifeguard, tow-in pioneer, and Hollywood surf action stuntman. I'm sure you'll be interested to learn that it was Darrick who performed the death-defying stunt at the end of Point Break, intentionally wiping out on a huge Waimea Bay wave. Originally from California, Darrick made his mark in Hawaii's big waves from the 70s onwards. In 1988 he is considered to have caught one of the largest waves ever ridden (paddling) at Waimea Bay.
During the 90s Darrick teamed up with Laird Hamilton and Buzzy Kerbox to help pioneer tow-in surfing, his wealth of experience as a lifeguard meant he was a valuable contributor. He still leads the way on the tow-in scene even now with his tow partners Laird and Dave Kalama. Interestingly, it was the three of them filmed in the opening sequence of Die Another Day (James Bond) movie surfing Jaws.